Yale Endowment Posts 11.5% Return as It Reaches $25.6 Billion
Janet Lorin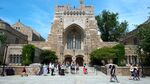 Yale University reported an investment return of 11.5 percent for the year ended June 30.
The value of the endowment rose 8.4 percent to $25.6 billion, according to a statement Thursday. The Ivy League school, based in New Haven, Connecticut, had an annual average return of 10.0 percent over the past 10 years.
It tweaked its asset allocation for the upcoming fiscal year to increase assets in absolute return, foreign equity and reduced target allocation in real estate.
The endowment, led for 25 years by institutional investing pioneer David Swensen, has consistently posted some of the best returns in the industry. Last year, its 10-year annualized performance of 11.0 percent was tied with Columbia University for the best among those with at least $1 billion in assets, according to Bloomberg data.
Swensen's influence extends beyond Yale. His proteges currently manage the endowments of some of the largest U.S. colleges, including Stanford University, Princeton University, and Massachusetts of Technology.
Spending from the endowment, which is the largest source of revenue for the university -- for the 2016 fiscal year is projected to be $1.2 billion -- represents about one-third of the university's net revenues.
Dartmouth College had an 8.3 percent investment return, while Harvard University, with the largest endowment in higher education at $37.6 billion, posted a 5.8 percent gain for fiscal 2015. Some elite colleges bested those schools, such as Bowdoin College with 14.4 percent, and the Massachusetts Institute of Technology at 13.2 percent.
The median return for endowments and foundations with more than $500 million this year is 3.6 percent, according to an estimate by Wilshire Trust Universe Comparison Service.
Before it's here, it's on the Bloomberg Terminal.
LEARN MORE