Not Your Grandma's Knitting Circle
Wool & the Gang is on a quest to make the craft fashionable.
By
At the back of a dimly lit bar in Brooklyn, N.Y., a group of twentysomething women huddle around high-top tables, laughing and making small talk. All the while, their hands wield wooden needles and tug on chunky yarn.
This September, about 40 knitting parties like this one took place in bars, cafes, and yarn stores in Chicago, London, and San Francisco, courtesy of Wool & the Gang. The British e-tailer sells its own brand of premium-priced knitting supplies, along with ready-made sweaters, hats, scarves, and other accessories for men, women, and children. Founders Aurelie Popper and Jade Harwood struck up a friendship while studying textile design at London's Central Saint Martins college and later worked at haute couture houses Alexander McQueen and Balmain. In her native Geneva, Popper met Elisabeth Sabrier, a former model and an occasional knitter. The three started Wool & the Gang (WATG) in 2008 to "change the way knitting was perceived into something that was cool and sexy, not so grandma-ish," says Popper.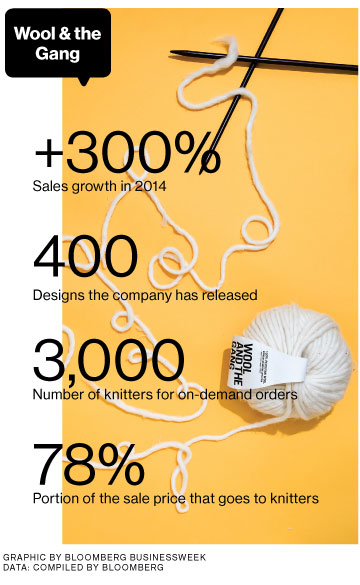 Since then the trio has recruited such up-and-coming designers as Giles Deacon, Christopher Raeburn, and Aurélie Bidermann to collaborate on knitwear designs that it sells as make-your-own kits or as finished pieces. Wool & the Gang's e-commerce site is peppered with fashion magazine-worthy shots of young women modeling their own handiwork. What it calls its "global knitwork of gangstas" includes indie celebrities Jemima Kirke of HBO's Girls and model/actress Cara Delevingne.
Headquartered in once-gritty, now-fashionable East London, Wool & the Gang employs a full-time staff of 25. The company doesn't disclose financials, but Popper says sales grew more than 300 percent last year, fueled in part by devotees who post photos of their finished pieces and works-in-progress on social media. "People who make stuff are just naturally a social bunch and want to share," Harwood says. "That's why Instagram is our No. 1 channel for posting content and driving brand awareness."
In 2012, WATG's founders decided to tap into their online community to serve those who wanted to own some of the company's designs but weren't interested in taking up needles. "We were seeing people taking pictures of their finished products and thinking, 'Wow, that's so well-made, we could sell that,' " Popper says. Today Wool & the Gang keeps a small inventory of ready-made items in stock but has a reserve army of 3,000 or so knitters who handle on-demand orders. The so-called Gang Makers—mostly women age 25 to 35, many of them college students or young mothers—purchase all the necessary materials at full cost and receive 78 percent of the sale price on each item, some of which range upward of $700. "They almost started their own little niche," says Marcia Patmos, whose knitwear designs for her label, M.Patmos, earned her this year's Women's International Woolmark Prize, awarded by an Australian group that promotes the use of wool in high fashion. "There are more companies that are trying that kind of on-demand production, but only a particular kind of company that can be adept enough to do that."
Wool & the Gang also enlists loyalists to host knitting parties like the one in Brooklyn. The events generate revenue—the purchase of a kit is the price of admission—and are a means of recruiting Gang members. The Brooklyn soiree attracted a couple of experienced knitters (one sported a knitted clutch from a previous party), but several newbies also cast on for the first time. Courtney Cedarholm, a fashion designer and Gang Maker, was on hand to pick up dropped stitches and demonstrate new techniques.
Wool & the Gang recently added crochet patterns to its offerings, and its founders have aspirations to create kits for every part of a person's wardrobe, from leather goods to jewelry. The company has turned to Crowdcube, a crowdfunding platform for British businesses, and is almost 90 percent of the way to its goal of raising £750,000 ($1.14 million).
As the night winds down at the Brooklyn bar, some of the partygoers aren't completely won over. Anna Kelly admits that even after several attempts, knitting remains a struggle. "I knitted a scarf once but couldn't figure out how to get it off the needles," she recalls. For those whose resolve appears to be wavering, Cedarholm offers a final inducement: If they post a photo of their progress on Instagram, they could win a $75 WATG gift card to get them started on their next project.
The bottom line: A U.K. e-tailer that sells knitting kits uses social media to recruit customers to knit made-to-order pieces.
Before it's here, it's on the Bloomberg Terminal.
LEARN MORE