West Elm's Office Furniture: Make Yourself at Home at Work
West Elm attempts to sell American companies souped-up versions of its twee apartment furnishings.
By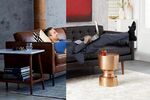 Jeff Hannoosh is getting ready to move offices. For five years he's worked at West Elm, the midrange-end-but-not-quite-Ikea furnisher that's come to define today's urban apartment aesthetic. Sales of all that blond wood, Middle Eastern fabric, and affordable marble led to revenue of $670 million for the company in 2014, up from half that in 2012. So 13 years after West Elm opened its first office, it's upgrading to a 150,000-square-foot space built in a revamped Brooklyn warehouse.
For a furniture company, the stakes for decorating your workplace are understandably high. Hannoosh was recently promoted to vice president for design, furniture, and lighting, and his current space is brimming with West Elm prototypes that were never put into production by parent company Williams-Sonoma. There's a lacquer bar console packed with books, an unsteady five-headed floor lamp, and a bronze-and-brass wire table that he uses for meetings. But none of it really works as office furniture. When West Elm decided to move, the company spent time looking at industrial furniture catalogs but couldn't find anything they liked. Eventually, "it made sense to us that we wanted to furnish it with our own furniture," Hannoosh says.
Early this summer the company introduced a line of office furniture, called Workspace, at NeoCon, the industry's annual trade show. Created with the commercial interiors firm Inscape, the label has 86 items, with plans to add more next June. Many of the pieces are durable versions of West Elm's homey favorites. The modern upholstered saddle chair, for instance, is a curvy seat with soft edges, upgraded with a heftier frame to meet the durability and safety standards of the Business and Institutional Furniture Manufacturers Association (BIFMA), which certifies furniture as safe for office use. "For years, our sales department and retail stores have told us people want to furnish whole offices with West Elm product," Hannoosh says. "But they need products that suit the needs of the modern office."

The Workspace pieces are organized into six collections, each one a nod to West Elm's signature aesthetics. The midcentury collection is Danish-inspired, offering boxy credenzas with stubby legs and thin, bronze-finished handles. Another range, called industrial, is like the boring desk and bookcases you already use but updated with light-hued oak surfaces held up by raw steel frames.
At $1,824 for a basic four-person desk and $568 for an armless desk chair, the West Elm pieces are about 20 percent cheaper than those from stalwarts such as Herman Miller and Knoll, which have dominated office design since the late 1960s, when workers started moving into cubicles. In the past 15 years, sales of office furniture have declined by about a quarter as office footprints shrink, startup budgets become more frugal, and tech advancements require less desk space—who needs filing cabinets in a paperless office? In turn, the average workstation costs about half as much as in the '90s, according to BIFMA.
The industry's midlife crisis dovetails with overall labor statistics. "I hope my compadres over at West Elm talked about the dramatic shift between boomers and millennials," says Jim Stelter, chief executive officer of Inscape. This year, millennials surpassed Generation X as the largest demographic in the workforce, according to Pew Research Center. A recent study by the University of North Carolina at Chapel Hill estimates that those born from 1976 to 2001 will make up almost half the workforce by the end of the decade. "Those individuals are more comfortable working in a more relaxed atmosphere," Stelter says. "It's not as rigid as what others have been raised in."
Half of the Workspace line features benching configurations, the industry term for the slabs of table shared by employees in open-plan offices, while everything else is designed to give off a casual vibe. Conference tables are lower than traditional height, so meetings feel like a group hang. Partitions between desks come in soft, pleated felt. Desk chairs are available not in practical, bouncy mesh, but rather in more attractive leather.

West Elm isn't the only furnisher making handsome commercial products. "We're thinking of the office as an office home, rather than a home office," says Alana Stevens, vice president for marketing at Knoll, which is known for pieces by design giants such as Eero Saarinen and Marcel Breuer. Last year, to diversify its offering, Knoll paid $95 million for Chicago-based furniture maker Holly Hunt. Not long after, Herman Miller, manufacturer of the famous Aeron chair, acquired Design Within Reach for $154 million. "We're seeing people trying to move away from sterile, conventional cube farms," says Lori Gee, vice president for applied insight at Herman Miller. The contemporary office environment, she says, should allow people to "work in new ways" and "support new behaviors." Holly Hunt and DWR are now among the brightest spots on their respective owner's balance sheet as their growth outpaces the more traditional divisions.
But given West Elm's past, Hannoosh believes he can nail this look better. "We're uniquely positioned to approach the workspace market," he says. "Lots of furniture companies want to do this, but it's not in their DNA." Still, West Elm would have had a hard time going it alone: Inscape provided connections with domestic manufacturing partners, the engineering bandwidth to create furniture that meets testing standards, and the distribution partners to help sell it. Furnishing offices often involves dealers, who negotiate pricing and understand the complexities of outfitting a space for large groups of people, an area in which West Elm had no experience.

Hannoosh says companies from financial firms to tech startups such as PlaceIQ, a mobile-advertising company in Manhattan, have expressed interest. When Matthew Novick, chief financial officer of PlaceIQ, was looking to upgrade its two-year-old Ikea setup to something sturdier, most of what was out there didn't match the company's needs or sensibilities. Too many of the desks were plasticlike and white, which didn't seem to go with cement floors and exposed ductwork. Novick was looking for something "a little bit more industrial, a little bit more collaborative," he says, and went for the pale wood meeting tables and low-slung sofas from West Elm's industrial collection. Once installed, the furniture should double as a recruiting tool, Novick says. "[Engineers] don't get excited about big cubes with drop ceilings. People are in jeans, in shorts, in T-shirts. West Elm goes more with that," he says.
The industrial line that Novick chose has been Workspace's top seller. "The veneer is very honest to the material," Hannoosh says. "You see knots, and you see imperfections in the wood, which isn't so common in the workplace." One of the side tables is a tree stump. For some, that look might be too casual. "I do think it's a niche," says Scott Delano, the design director for IA Interior Architects, a global office-design firm. And despite all the guarantees of quality, the West Elm veneer still reminds people of West Elm, whose home furniture isn't known for being particularly sturdy. "They don't think a West Elm desk would stand up in their office," he adds.

The challenge, then, is that these designs might look too much like they belong in an apartment. The furniture makers obviously don't see it that way. "The modern office is not just a place of work, it's a place where people should want to hang out," explains Knoll's Stevens. Why go out for happy hour drinks when there's a keg at work? Why go to the gym when there's an on-site boot camp? "How do you bring the comforts, the warmth, the openness of the home into the office?" she asks. "How do you de-corporate the office?" Or, perhaps there's a better question: How do you keep employees from ever going home?
Before it's here, it's on the Bloomberg Terminal.
LEARN MORE