StoreDot's One-Minute Phone Charge
A phone battery that charges in 60 seconds.
By
Innovator: Doron Myersdorf
Age: 52
Co-founder of three-year-old startup StoreDot, in Herzeliya, Israel
Form and function
StoreDot says its smartphone batteries can fully recharge in 60 seconds, compared with an hour and a half for the average device.

Chemistry
Proprietary amino acids, used in place of some of a typical battery's lithium components, allow for safer, quicker charging, StoreDot says.

Origin
In 2012, Myersdorf, formerly of chipmaker SanDisk, and two Tel Aviv University professors stumbled upon the battery compounds while experimenting with flash memory.
Endurance
StoreDot says its batteries stay in top condition for about 2,000 charges, four times the typical number.
Funding
Myersdorf has raised $66 million from investors including Samsung's venture capital arm and Russian billionaire Roman Abramovich.
Price
StoreDot is trying to sell the batteries to phone makers. It says they'll cost 30 percent more than today's models and add as much as $100 to a phone's retail price.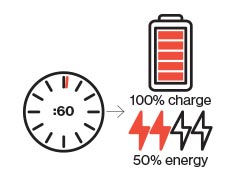 Results
The minute-charge battery stores about half the energy current batteries do, Myersdorf says. A version that charges in five minutes has capacity equal to standard batteries.
Next Steps
Myersdorf says the phone batteries will go into mass production in 2017. He's also working on an electric car battery he says will be able to store a 150-mile drive's worth of charge in five minutes. It takes 30 minutes on a Tesla Supercharger for a Model S to get a similar charge. Veteran Israeli startup founder Zack Weisfeld says the risk-averse auto industry is a tough sell, "but transportation is changing rapidly and there are very big opportunities."
Before it's here, it's on the Bloomberg Terminal.
LEARN MORE