Singapore Shuts Schools, Cancels Events as Haze Worsens
by
Pollutant index rose to year's high of 341 as haze covers city

Singapore identifies companies linked to forest fires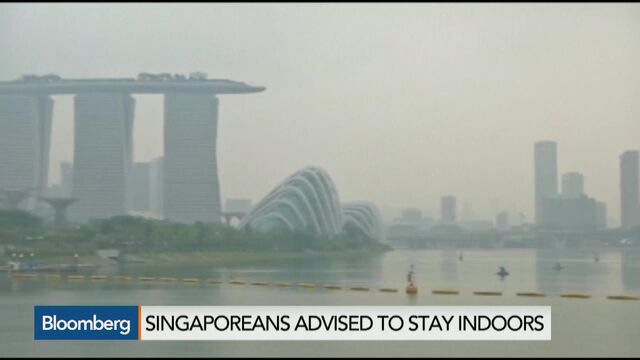 Singapore shut schools and suspended some outdoor events as the city-state's air quality slid into the hazardous range for the first time this year, raising concerns that this will hurt the tourism and retail industries.

Primary and secondary schools were closed in Singapore on Friday as the three-hour pollutant standards index reached the year's high of 341 at a 5 a.m. Singapore time reading. The gauge receded in the afternoon before rebounding to 162 as of 7 p.m., well into the "unhealthy" level, according to the National Environment Agency. A reading exceeding 300 is classified as "hazardous."
"If it lasts long enough, domestic retailers and commerce will show visibly reduced earnings," said Wai Ho Leong, a Singapore-based economist at Barclays Plc. "After that, it has to last long enough for people who have booked trips to Singapore to cancel. There's still a sense this is temporary."
Layer of Haze
Smoke from Indonesian forest fires has shrouded the city-state with a layer of haze in the past few weeks. Data compiled by Global Forest Watch showed a concentration of fires in parts of Indonesia's Sumatra and Kalimantan, driving the air quality of cities located in the areas to hazardous levels.
"The weather pattern would play a role to whether you would be in a stagnant situation like what we are experiencing right now, or it could be flushed out due to strengthening winds from cleaner sources," Gabriel Lau, an earth system science professor at the Chinese University of Hong Kong.
Indonesia's enforcement of its laws against plantation owners is key to resolving the problem, Singapore's Environment Minister Vivian Balakrishnan said in an interview a week ago. The smog also led the flights disruptions across Southeast Asia.
The minister identified four Indonesian companies that may be linked to the fires on a Facebook post on Friday. The environment agency has also served Asia Pulp & Paper Co. in Singapore with a notice seeking information on its units, as well as measures taken by its suppliers to put out fires in their Indonesian concessions.

Economic Pressure
"The Singapore government is currently examining how to apply more economic pressure against errant companies," Balakrishnan said.
A Singapore nationwide music test on Friday has also been postponed until Tuesday, the Ministry of Education said. Some international schools including the Swiss School in Singapore were also shut. Junior colleges and universities will remain open. Sports Hub, the city-state's new stadium, will suspend all outdoor activities.
"This is the first time I'm experiencing the haze first-hand. Today it really has worsened, you feel that," said Gokulnath Durai as he walked along the Singapore River wearing a face mask yesterday, which the tourist from Chennai, India said was "a precautionary measure."
Free Masks
Singapore will also distribute N95 masks to "vulnerable and needy" citizens and permanent residents across 108 community clubs on Friday, the environment agency said.
Indonesia last week set a 14-day deadline to extinguish fires in Riau, and a 30-day target for South Sumatra and Jambi. The government has detained suspects in companies in various parts of the country.
"We stand ready to assist Indonesia in combating the fires," Singapore's Foreign Affairs Minister K. Shanmugam said in his Facebook post. "Last year, we introduced legislation to allow us to prosecute companies found to be causing or contributing to the haze. And we will not hesitate to take such actions against those errant companies."
Before it's here, it's on the Bloomberg Terminal.
LEARN MORE