Scotia: It's Time for BlackBerry to Abandon its Operating System
And embrace Android instead.
By and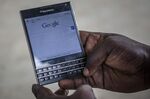 Scotia Capital analyst Daniel Chan has some bold advice for BlackBerry ahead of the Canadian company's quarterly earnings report.
According to Chan, the tech company ought to jettison its BlackBerry 10 operating system, the linchpin of its highly secure ecosystem for mobile phones, in favor of Google's Android platform.
In his nearly two years as BlackBerry's chief executive officer, John Chen has worked to shift the company from a shrinking device maker to a serious player in software for businesses. The company has made several acquisitions to expand its nonhardware offerings, culminating in the $425-million takeover of Good Technology earlier this month. Buying Good will help get BlackBerry closer to Chen's goal of $500 million in software revenue by March 2016 and removes a key competitor to its business of providing programming aimed at helping companies track and secure mobile devices. Phones still account for more than 40 percent of the company's revenue, however, and BlackBerry has long said running its own operating system allows it to make sure the devices live up to its reputation for security.
BlackBerry is scheduled to report earnings before the open on Friday morning. The consensus among analysts is for a loss of 9¢ per share, according to the average of forecasts compiled by Bloomberg. Investors and analysts will be looking to see how much progress Chen has made toward the $500-million goal as Blackberry handset sales continue to drop despite new phones introduced in the past year, such as the keyboard-equipped Classic and square-screened Passport.
While Chen made an immense stride in revamping BlackBerry's device business by outsourcing manufacturing and development to avoid repeats of the inventory buildups that had long plagued the company, Scotia's Chan explains why a more radical change would be beneficial.
"While BB10, in our opinion, is technologically superior to many mobile platforms, it has failed to generate the recovery BlackBerry had hoped for and continues to be the primary source of losses for the company," Chan said in a research note published this week.
The market share of BlackBerry devices has continued to decline since the launch of this operating system, as access to a number of Android apps through the Amazon.com app store has not been a panacea.
With roughly two-thirds of the company's research and development costs dedicated to the device business, the analyst said the company can save $266 million per year by discontinuing its current operating system. This would entail a reduction in headcount of nearly 1,400 to realize these savings, Chan estimates.
Moreover, a shift to this platform would allow new BlackBerry devices to have access to the full suite of Android apps, thereby resolving an issue that prompted many retail consumers to move to other phones in the first place. A more consumer-friendly phone would help the company achieve its goal of 10-million device sales, the analyst reasons. And given that this target represents less than 1 percent of the Android market, the bar for success is low.
"There is an opportunity for BlackBerry to differentiate itself from many of the generic Android vendors by focusing on the enterprise market to easily achieve its 10-million unit goal," Chan wrote. "In addition to growing hardware revenue, we believe the adoption of Android would allow BlackBerry to significantly reduce costs in its Devices business and lower the breakeven revenue level."
The primary competitive advantage and distinguishing feature of BlackBerry devices, however, has arguably long since moved from the physical keyboard to security capabilities. It would be a difficult balancing act for BlackBerry to augment the Android operating system with many of its native security features and still receive approval from Google for its use.
As such, while ditching the BB10 operating system would potentially broaden the appeal of BlackBerry devices to retail consumers, it runs the risk of alienating two of the company's last bastions—government and corporate customers in regulated industries for whom security is of paramount importance.
"We believe the greatest risk to BlackBerry adopting Android is the stigma of insecurity that comes with the platform," acknowledged Chan.
Further collaboration with Samsung Electronics, whose KNOX technology has significantly enhanced the security capabilities of Android devices, would be a way to alleviate any concerns about vulnerabilities, according to Chan, and potentially allow BlackBerry to maintain some of its prized clients in regulated industries.
But any move away from the BB10 operating system would have to wait an indefinite amount of time due to preexisting contracts the company has to fulfill.
A BlackBerry spokesman declined to comment on the prospect of ending development of BB10 and switching all new devices to a secured Android operating system.