Sanders and Cruz Loved the Pope's Speech—for Very Different Reasons
The speech drew strong praise from two presidential candidates who represent polar opposite ends of the ideological spectrum.
By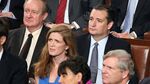 An avowed democratic socialist and a conservative Republican senator running for president both loved Pope Francis' historic speech to Congress on Thursday morning—for very different reasons.
Vermont Senator Bernie Sanders praised the pope's message of economic justice and call to fix "environmental deterioration caused by human activity."
"I have long believed that the pope is playing an extraordinary role on this earth as one of the great moral leaders," said Sanders, whose underdog bid for the Democratic nomination has generated great enthusiasm nationally. "That's been his constant theme—to make sure we are not worshipers of money, worshipers of wealth, that we don't live our lives just to make as much money as possible."
He was pleased with the pope's "rather extraordinary" praise for Dorothy Day, a Catholic-convert activist described in her time as radical in her pacifism and strident in her criticism of capitalism, which she considered an oppressive force against the poor. Capturing the cross-ideological appeal of the pope's overall message, she was also a fierce opponent of birth control and abortion.
Huddling with reporters as Sanders walked by Statuary Hall, which connects the House and Senate wings, was Texas Senator Ted Cruz. He praised the pope's message as "powerful" when it came to protecting the family unit, religious liberty, and protecting and defending "human life at every stage" of development.
"Pope Francis has been a powerful voice for life at a time when life is profoundly threatened in America," Cruz said. "Pope Francis has been a powerful voice for marriage at a time when five unelected judges are seeking to tear down marriage laws across this country. And Pope Francis has been a powerful voice for religious liberty at a time when the Obama administration is waging a relentless war against religious liberty."
Cruz said the speech should make President Barack Obama and Vice President Joe Biden "awfully nervous" as it relates to religious liberty as well as the debate about whether to defund Planned Parenthood, a group that provides women's health services, including abortion. (Bloomberg Philanthropies provides financial support for Planned Parenthood.)
"It was striking, and heartbreaking, to see so many congressional Democrats sitting stone-faced, arms crossed, when the pope urged us all to defend human life," Cruz said.
Cruz needled the press for writing "amusing and slanted" stories suggesting the pope's visit to the United States was good for Democrats.
The Texas senator, an outspoken critic of illegal immigration, sounded less moved by Pope Francis' impassioned call to be compassionate toward people who "travel north in search of a better life," a reference to the recent wave of undocumented immigrants to the U.S., many of whom have fled violence in Central America.
"When we speak of welcoming immigrants, I believe that should refer to legal immigrants," said Cruz, who noted that he's the "son of an immigrant who came from Cuba legally." He added that "we should celebrate legal immigrants" and "show compassion to people across the globe."
In his long section on immigration, Pope Francis, a son of Italian immigrants to Argentina, said, "We the people of this continent are not fearful of foreigners, because most of us were once foreigners. I say this to you as the son of immigrants, knowing that so many of you are also descended from immigrants."
One presidential candidate who was visibly moved by that remark was Republican Senator Marco Rubio of Florida, a son of Cuban immigrants, who smiled and wiped away a tear as he watched in the House chamber.