business
Port Authority Backs Hotel at JFK's Former TWA Terminal
By
500-room hotel in historic landmark projected to open in 2018

Partnership of MCR and JetBlue to invest $265 million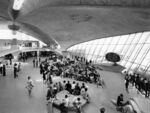 The Port Authority approved a 75-year lease with a developer to revamp the "Mad Men"-era former Trans World Airlines terminal at New York's John F. Kennedy International Airport into a 500-room hotel with shops, conference space and a spa.
A partnership of MCR Development LLC, an operator of Hilton and Marriott hotels, and JetBlue Airways Corp. will invest $265 million in the Eero Saarinen-designed terminal and develop two adjacent six-story hotel buildings, according to a resolution approved Thursday by the Port Authority of New York & New Jersey, which manages New York City's three major airports. MCR will own 95 percent of the hotel.
"The new hotel will serve the growing needs of our passengers throughout the 21st century, with a touch of the bygone era of glamorous mid-20th century jet-age travel," said Port Authority Executive Director Patrick Foye in a news release.
The partnership will pay the Port Authority a fixed rent, as well as a percentage of the gross revenue. The authority estimates the rent will total $70 million over the life of the lease.
The Port Authority has spent $20 million to maintain the Saarinen building and its plush-red lounge. The agency will spend another $8 million to connect the hotel to JetBlue's terminal and build a parking garage and AirTrain station to serve the complex.
MCR owns and operates 89 hotels in 23 U.S. states. Among them is the High Line Hotel, which the company built in a renovated 19th century dormitory in New York's Chelsea neighborhood across from the elevated High Line park.
The TWA Flight Center was built in 1962 and served as the airline's terminal until 2001, when it declared bankruptcy and stopped operating. The center was too small for modern aircraft and couldn't accommodate enough passengers, making it unsuitable as an airline terminal, according to the Port Authority. The now-vacant building was declared a national historic landmark in 2005.
The new hotel is projected to open in late 2018.
(Updates with Port Authority official's comment in third paragraph.)
Before it's here, it's on the Bloomberg Terminal.
LEARN MORE