In Arizona, a Chinese-Style Bazaar
PhoenixMart will bring almost 2,000 businesses under one roof.
By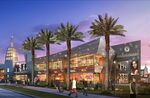 Every year, thousands of Americans travel to the sprawling Yiwu wholesale market, about 160 miles from Shanghai, to buy supplies for their businesses, whether it's furniture for a hotel or raw materials to build the furniture. They'll soon be able to find similar one-stop-shopping convenience closer to home.
In Casa Grande, Ariz., a 1.58 million-square-foot facility called PhoenixMart will house manufacturers, wholesalers, distributors, and retailers under one roof. Slated to be finished in mid-2016, the marketplace is designed to fill every conceivable customer need. "Many of the people who have been sourcing in China really just want the convenience China offers and can find that at PhoenixMart instead," says the center's chief executive officer, Steve Gardner, whose previous work as an executive coach and branding specialist has taken him to Asia.

The $150 million development will encompass warehouses and light-assembly facilities, a 95,000-square-foot trade show arena, smaller event spaces, and a high-end restaurant and food court. More than 100 business services will be offered, including logistics and distribution.
This sort of centrally planned business hub already exists in some cities in Asia and the Middle East. PhoenixMart's developers are touting it as the first of its kind in the Western Hemisphere. A third of the center's 1,740 business suites have already been leased, says Gardner, who expects about 50 percent of the lessees to be from North America and the rest from Asia and Europe. Annual rents for the 500- to 600-square-foot units range from $35,000 to $65,000, depending on location.
Among the businesses that have already signed leases is Supply Chain Solutions, a seven-employee logistics and freight-management company based in La Crosse, Wis. Executive Vice President Jason Clark says a presence at the center will raise his company's profile. "We have the ability to reach more potential new customers than we ever could imagine," he says.
For Tempe (Ariz.)-based signmaker Bluemedia, which helped make the signs for the last two Super Bowls, the opportunity to collaborate with other companies was key to its decision to rent a PhoenixMart suite. "Among all our marketing tactics, we've had the most success building relationships in person," says Darren Wilson, a Bluemedia partner.
The idea for PhoenixMart came to China native Elizabeth Mann in the 1990s when Phoenix's economic development department tapped her to build a Chinese cultural center. She couldn't find the materials she needed in the U.S. and ended up at Yiwu. "Americans have the best products, the best companies, and the best efficiency, but they are less efficient in making the products known to international and national buyers," says Mann. "PhoenixMart will provide that needed link to small and midsize companies, so they can focus on making the products."
To spearhead the project, five Arizona developers formed a limited partnership called AZ Sourcing, based in Scottsdale. AZ considered sites in 10 states and settled on Casa Grande—a city of 55,000 halfway between Tucson and Phoenix—because the site offered room to grow and easy access to major highways and air and rail connections.
Most of the financing is being supplied by Chinese citizens through the EB-5 Immigrant Investor Program, a federal program that grants foreigners a green card if they invest $500,000 in an American business in an area with high unemployment. AZ Sourcing lined up 300 EB-5 investors who have committed $150 million. The government has released only $40 million of the funds so far because of a backlog in applications. Gardner, who was hired by the developer, says it has bridge-loan offers it can tap to keep construction on schedule.
The developer has a bigger master plan for the 585-acre site. It also envisions hotels, shops, restaurants, entertainment venues, apartments, single-family homes, and a resort. The entire project, dubbed the North American Logistics, Trade & E-commerce City, has a projected $1 billion price tag and would take at least five years to complete.
Frank Lavin, former undersecretary for international trade under President George W. Bush and CEO of Export Now, which helps companies break into China's e-commerce market, says he doesn't see the advantages of clustering businesses into a PhoenixMart. "The triumph of digital means that all these services are already in one locale," he says.
James Liu, general manager of Ming Mao, a 22-employee Chinese textile company that is renting space in PhoenixMart, has a different perspective. "Of course, the Internet is a smart way to do business," he says. "But here we can meet face-to-face and, compared to exhibitions that last a week, show our products 365 days a year."
The bottom line: A $150 million development called PhoenixMart wants to help U.S. businesses win sales back from China.
Before it's here, it's on the Bloomberg Terminal.
LEARN MORE