Oust Speaker John Boehner, Houston Republicans Tell Lawmakers
The Harris County Republican Party has called on the 25 Texas House GOP members to vote to replace Boehner.
By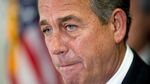 On the same week that House Speaker John Boehner is savoring one of the coups of his career—an historic Thursday visit by Pope Francis to the U.S. Capitol that the Ohio Republican engineered—some members of his own party were pressing to score a coup of their own. Against Boehner.