Optima Tax Relief Brings Transparency to the Industry
How to build trust in an industry with a bad rep.
By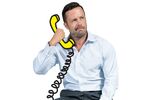 In 2011, when Wharton alums Jesse Stockwell and Harry Langenberg founded the company, the tax resolution industry was suffering from a lot of bad press. Several companies in California, Minnesota, and Texas were either under investigation for, or had been charged with, fraud for misleading consumers about their ability to negotiate with the IRS and set up manageable payment plans. The two MBAs, who aren't accountants, decided to turn the mistrust in the industry into an advantage and create a business to help Americans who owe the IRS a lot of money. An initial consultation is free. The fee to start an investigation is $995, and the average total cost for resolving a case is about $4,000. Optima, based in Santa Ana, Calif., started with eight employees and has grown to 330. "To provide tax resolution ethically ... is expensive," Stockwell says.

• "Managing our growth has been a continual challenge. You have to take resources away from certain areas and focus them on other areas. So we brought our entire technology development team in-house, and we're a tax resolution firm. Building in-house teams gives us very high quality control and makes us very nimble. Unlike a mortgage servicing business, you have accountants, tax preparers, an investigations team, enrollment agents."
• "Our legal team is another example—we tripled that in one year. They make sure that our agreements, our protocol, our technology adhere to the highest levels of excellence and security. They're intimately involved with the pulse of the business."
• "The larger players that were in the industry at the time we started, they charged a very high fee upfront to the consumer, and after the money was paid, very little was done. The consumer didn't have much view into the provision of services. There wasn't a lot of transparency there."

• "When a customer gets a letter in the mail from the IRS, they're apprehensive, a lot of them are scared. They want to work with a trusted firm. If they have a serious tax problem, they need to be sure it's been vetted properly."
• "Before someone's even hired, we do everything possible to weed out anyone who doesn't meet our standards. We do a lot of technical interviewing to make sure they know what they're talking about."
• "Our employees are heavily trained on the proper procedures for handling any tax problem. A consumer knows that we're not going to take your money unless we're sure we can help you. We're not going to enroll you in a resolution program unless we're sure. So consumers know that they're not locked in."
Before it's here, it's on the Bloomberg Terminal.
LEARN MORE