One Year After Occupy Clash, Beijing Tightens Grip on Hong Kong
by
Protesters see little to celebrate on anniversary of protests

China seeks to vote out foes and reaffirm control over city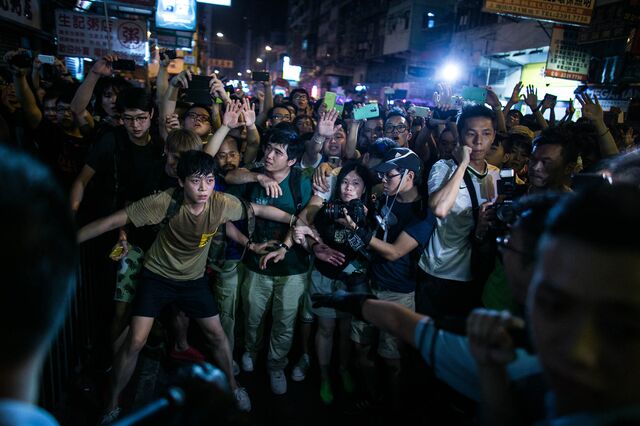 One year after Hong Kong students battled tear gas and pepper spray to seize the streets in a challenge to Chinese rule, the divide with Beijing is wider than ever.
Chinese officials have called for voting out pro-democracy lawmakers and reaffirmed the Communist Party's authority over the city. On the other side, Joshua Wong -- among three student leaders whose Sept. 26 arrest last year sparked violent clashes with riot police -- is considering a demand for independence as a last resort. Beijing has called the pursuit of such autonomy unacceptable and a threat to national interests.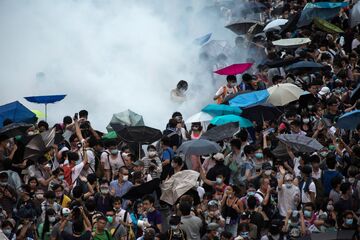 The political rift is widening even as Hong Kong's economic ties with the mainland grow stronger, from cross-border stock links to yuan-denominated bond sales to the millions of tourists who crowd local shops and hotels. Failure to compromise has fueled concern that China may abandon the system of self-rule late paramount leader Deng Xiaoping gave the city when the U.K. relinquished sovereignty in 1997.
"We must allow for opposition in Hong Kong," said Jasper Tsang, the legislative president and founding chairman of the city's biggest pro-Beijing party. "The pan-democrats, even though they are very critical of the central government, even though they are perhaps pretty much anti-communists, they do represent a sizable proportion of Hong Kong people."
The debate centers on how much self-rule Hong Kong's 7.5 million residents should have, with last year's rallies intended to fight a Beijing-backed proposal for the first citywide leadership election in 2017. Democracy activists want a freely elected chief executive, a stronger legislature and protections for the independent courts. The latter is a key draw for the multinationals that make the city a world financial hub. 
One Government
China shifted in the opposite direction after pro-democracy lawmakers defeated Chief Executive Leung Chun-ying's election plan in June because the candidates would be chosen by a panel of insiders. Zhang Xiaoming, the Communist Party's top official in Hong Kong, argued in a speech earlier this month that the chief executive "transcended" the other branches because he serves under the authority of Beijing, which approves his selection.
While protesters haven't returned in large numbers since police cleared the last Occupy Central tents in December, battles over Hong Kong's future continue to play out in meeting halls, in the press and on social media. Pro-democracy activists see evidence of Beijing's creeping influence in everything from university appointments to media coverage.
"The Beijing version of government where Xi Jinping is president, head of congress and also the entire judicial system -- that's exactly the version Hong Kong people are worried about," said James Tien, a pro-establishment lawmaker. "Zhang read his speech carefully that day -- it wasn't ad hoc, it was done with the approval of Beijing. That causes concern."
Be More Chinese
In the past three months, Wong and other student leaders including Nathan Law and Alex Chow, have been charged over their roles in the 79-day street occupation, also known as the Umbrella Movement. In July, former Home Affairs Secretary Tsang Tak-sing -- the legislative chief's brother -- was removed for "inadequate" outreach among the city's youth, the South China Morning Post reported.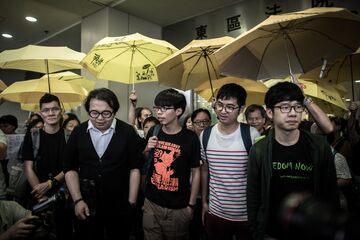 Meanwhile, the Chinese government urged its biggest group of supporters, the Democratic Alliance for the Betterment & Progress of Hong Kong, to win enough Legislative Council seats to overcome any opposition. A former top official from the China's Hong Kong and Macau Affairs Office said Monday that the city must complete "de-colonization" and become more Chinese.
"I used to hope that we could sway the viewpoint of the government, but clearly going down that path is a dead end," said Wong, 18, a university student who co-founded the activist group Scholarism. "We want autonomy and democracy, and if we can't achieve that under Chinese rule, then independence is one of the ways out."
Legal Autonomy
Much controversy has centered on Hong Kong's courts, which Deng agreed to let use British common law for 50 years after the handover. While Zhang reaffirmed support for an independent judiciary in his remarks two weeks ago, some judges and lawyers rejected interpretations that the chief executive was above the law.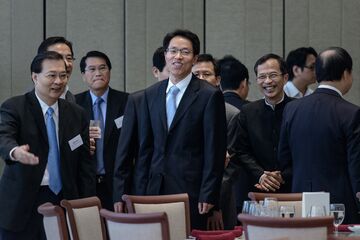 "Foreign companies will look at our law books when they think about where to base themselves," said Tien, a former tourism chief. "Their understanding is that Hong Kong is ruled by law and the chief executive is not above the law. If they lose confidence in that, then they might have second thoughts."
Questions about the city's legal future come as China's economic slowdown shakes local growth pillars. The private-sector economy suffered its sharpest contraction since 2009 in August and retail sales fell for five-straight months through July. There's concern a U.S. interest rate increase could trigger a property slump.
Faced with such challenges, few see a reason to celebrate the anniversary of the protest movement that drew global attention to the local democracy cause. One year after Occupy, compromise remains far away.
"If we had won, it would be an anniversary," Wong said. "But what is there to celebrate? We have a long way to go."
Before it's here, it's on the Bloomberg Terminal.
LEARN MORE