Norway Cuts Rates to Record Low to Save Economy From Oil Slump
By
Norges Bank sees rate at low of 0.59% in third quarter 2016

Central bank sees key rate at below 1% until end of 2018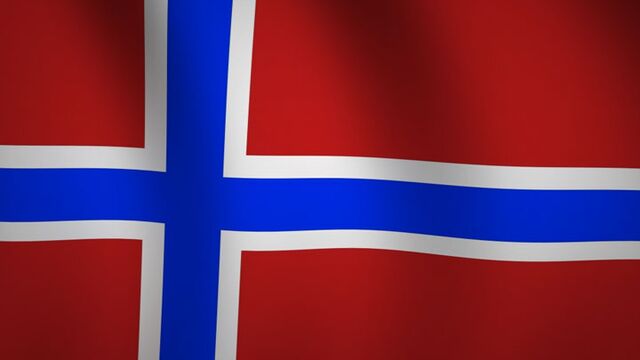 Norway's central bank unexpectedly lowered interest rates to an all-time low and said it may ease policy further as it seeks to rescue an expansion in western Europe's biggest petroleum producer from a plunge in oil prices.
The overnight deposit rate was cut by 25 basis points to 0.75 percent, the Oslo-based central bank said Thursday. The move was forecast by seven of the 17 economists surveyed by Bloomberg, with the rest expecting no change. The bank said its rate may fall to 0.59 percent in the third quarter of next year and remain below 1 percent to the end of 2018. The krone plunged 2.8 percent against the euro on the news, its biggest drop since December last year.
Governor Oeystein Olsen is easing to unprecedented levels, following colleagues in Stockholm and Frankfurt, as the collapse in oil prices is taking its toll on the $500 billion economy. The government has also flagged it will use more of Norway's $880 billion wealth fund in its budget, due to be released next month, after oil companies cut more than 20,000 jobs, driving unemployment up to its highest level since 2006.
"Even though we have some challenges now with lower oil prices we have a good system of managing the oil wealth and significant room to maneuver in fiscal policy, which is very different from many other countries," Olsen said in an interview with Bloomberg. "We're seeing positive signs of a weaker krone stimulating other parts of our economy. So yes, we have some worries, but I don't think we should be too pessimistic."
After easing policy in June, Olsen signaled as much as a 70 percent chance of another rate cut this autumn in part to weaken the krone and help the non-oil economy. Since then, oil prices have dropped about 25 percent. The krone has fallen about 16 percent against the euro over the past 12 months, pushing inflation above the central bank's 2.5 percent target.
Olsen said Thursday that inflation will likely abate as the effects of the weaker krone make themselves felt, while emphasizing that the bank has a flexible inflation targeting policy. In its new forecasts, the bank said it sees underlying inflation remaining above its target until early 2017.
SEB AB said in a note it found it "odd" that the central bank would raise it's forecast for underlying inflation while lowering its rate path.
"It certainly underscores the bank's willingness to mitigate downside risks to growth," said Erica Blomgren, chief strategist at SEB in Oslo, in a note. SEB expects "the bank to remain dovish until we see clear signs that downward momentum in the economy is stabilizing. We don't expect another rate cut this year, but the risk is certainly tilting in such direction. Either way, the bank is unlikely to start normalize rates until somewhere in 2017."
In its latest assessment, the central bank said it sees mainland gross domestic product growing by 1.25 percent this year and the next, and by 2 percent in 2017. Petroleum investments will fall 12.5 percent this year and 10 percent next year. It had earlier predicted a 5 percent decline for those investments for 2016. The bank sees surveyed unemployment rising to 4.5 percent next year.