Nervous French Socialists Take on Free-Market Cheerleader Macron
by
Economy Minister Seeks End to Jobs-For-Life in Government

Hollande's Socialist Party Faces Rout in Regional Elections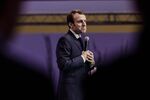 Faced with a looming defeat in regional elections, France's Socialists are turning on one of their own.
That's what Economy Minister Emmanuel Macron is finding out as he casually drops suggestions on how to kick-start French growth after three years of stagnation. Having orchestrated tax cuts for business, kept more stores open on Sundays and helped make labor laws more flexible, the former Rothschild banker last month suggested dropping France's 35-hour work-week law and now wants to end the job-for-life guarantee given to French civil servants.
Such ideas appeal to business leaders and even the wider public. To many in President Francois Hollande's Socialist Party, Macron is waving a red-flag to a bull. Their thinking -- not unlike the backers of British Labour Party leader Jeremy Corbyn-- is that their movement should be tacking left, not right, to win more votes.
"He's arrogant," Martine Aubry, the Mayor of Lille and former minister who wrote the 35-hour workweek into law said. Macron is "ignorant of what people face day-to-day," she said, adding that she is "fed up" with him.

Some Socialist lawmakers even want Macron fired before French voters elect new regional assemblies in December. Hollande's party is set to lose the majority control of France's regions it currently holds.
Le Pen
The vote to elect 13 regional assemblies will be held in two rounds on Dec. 6 and 13, the last major trip to the polls for the French before the next presidential election a year-and-a-half later.
Marine Le Pen, leader of the anti-immigrant National Front and candidate in the northern region that includes Calais and Lille, may win power there, according to a Sept. 17 Ifop poll. Her niece stands a chance of winning the South Provence-Alpes-Cote d'Azur region, which has been in the hands of the Socialists for 18 years, a separate poll show.
Macron is "the future scapegoat for the massive beating the
Socialist Party is going to take in December" Le Pen said in an interview on RMC radio on Thursday.
Popular Minister
Outside the Socialist Party, the view of Macron is different.
About two-thirds of French people support the minister's call to align work contracts between the public and private sectors and and dropping the job-for-life perk, according to separate polls by Opinion Way and Elabe.
Macron is also the second-most popular politician in the country behind Bordeaux mayor Alain Juppe, according to a CSA poll for Les Echos. His approval rating jumped five points in August to 44 percent, according to the poll.
Hollande, who hired Macron as his economic aide before upgrading him to minister last year, is keeping a careful distance ahead of the elections. Asked about criticisms from Aubry and others at a press conference in Brussels, he said simply, "silence is golden."
Macron himself dismissed his opponents, saying people would be ready to keep the Socialists in power if the economy was strong.
"I think when people have pudding and jobs they vote for you," he said in London Thursday. "For me, the next election depends on the ability to deliver, to get results and to have good news to deliver."
Before it's here, it's on the Bloomberg Terminal.
LEARN MORE