Tech Reviews
Moto 360 Review: A Pared-Back Smartwatch That May Actually Tackle Apple
Version 2.0's restraint and customizability could be the key to cracking the smartwatch code
by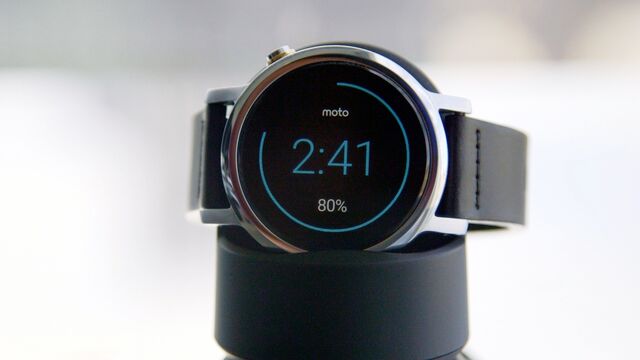 Smartwatches are still primitive technology. It's not clear yet what the long-term prospects are for the tiny wrist computers and whether they'll thrive or go the way of the minidisc player, waltzing off into the annals of early-adopter history. Of course, that isn't stoping every major smartphone maker from trying to crack the code that takes the device mainstream.
The new Moto 360 isn't a radically different vision of the smartwatch, and it's actually not even all that different from the first generation model launched last year. But it is a strong iteration on an already good smartwatch and one of the few smartwatches you should actually buy.
Making It Happen

A huge mistake smartwatch manufacturers make is forgetting that a watch is first and foremost a fashion statement.
No one sets out designing a jacket thinking, "I don't care if it's ugly, as long as it's warm." (At least no one who actually sells those jackets.) The 360's biggest upfront strength is that it looks like an actual watch. The case is round and made of stainless steel, it has arched lugs for holding the strap, and the strap options are made of Horween leather or steel, so you won't want to replace them immediately (though you can put on any standard watch strap you want). From a distance, you might not know someone's wearing a smartwatch at all.
You can buy the Moto 360  in a few different color configurations from such places as Best Buy and Amazon.com or design your own through Motorola's Moto Maker tool. This lets you pick your size, bezel, bracelet, and colors—a route you definitely want to go. Two sizes are available for men, the 46 mm we had last year and a smaller 42 mm. For women, a special 42 mm model takes slimmer straps, has different bezel options, and can also be configured in rose gold. Moto Mistake: I really wish the men's sizes came in rose gold as well.
Prices start at $300 for the 42 mm (in plain steel on a leather strap) and go up to $450 if you opt for the gold 46 mm with matching gold bracelet.

I designed myself a simple 360 to test—steel case, plain bezel, black leather strap—though you can cook up some pretty strange concoctions if that's your thing. I wouldn't recommend pairing a black case with a knurled steel bezel and a gold link bracelet, but you can do it if you want. 
It's worth noting that like the customizable Moto X Style, once you've got your watch in hand, you can't have parts swapped later (except for the strap). So if you go for something on the bold side, make sure it's something you'll be happy with for the long haul.
The build quality on the model I tested (and the handful of samples I saw a few weeks back) is definitely premium. It might not feel quite as solid as the standard steel Apple Watch, but I really like the mix of brushed and polished finishes. As someone who spends a lot of time scrutinizing traditional watches, the 360 seems designed by people who truly know the field. 
On the Wrist
The first thing to know about using the Moto 360 is that it runs Android Wear, Google's smartwatch platform.
Compared with the Apple Watch, Android Wear encourages a lot less interaction. You're not meant to be playing around with your watch, calling cars through Uber, fiddling with games, and getting lost in the glossy screen. Sure, you can do a lot of these things, but that's not how the system is meant to work. Instead, think of Android Wear as an always-on stream of notifications and alerts. Sports scores, weather, incoming e-mail, and the like are all available in a simple list with a swipe up, but you can decide what buzzes your wrist and what you can call up only when you want.
The screen on the 42 mm model is 1.37 inches across, offering more than enough room for reading text messages, e-mail subject lines, and the little snippets of info you want to grab at a glance. 
Unlike the Apple Watch, the 360 has an ambient, always-on mode that shows a simplified watch face in black and white for checking the time without doing the obtrusive wrist-flick gesture we're all learning to resent. Overall, readability is good, but I did have some issues seeing the screen in bright sunlight, and a few times, as I moved in and out of different lighting conditions, the watch hunted for the right setting like a camera trying to find focus. 
There are some new additions to Moto's watch face catalog, including some with interactive complication widgets. These might let you see the current weather right on the face and then tap the icon to get a multiday forecast or allow you to touch your daily step tally to dive into your fitness goals. If you don't like Moto's faces, you can always download more from the Google Play store, where there are a few hundred total and most are free or cost just a few dollars. I can't imagine anyone not finding something he or she likes.
There's still a little black slice taken out of the bottom of the display, and yes, it still might annoy some (it was a huge source of debate among critics of the original), but I stopped noticing it rather quickly. It looks much worse on paper than in reality. Moto says that to get the thin bezels on the 360, it needs this little design quirk as a place to hide the mechanisms that power the display. It's not optimal, but it's far from a real problem.
Get Moving
As with all smartwatches, a big part of the Moto 360 is its fitness tracking.
Inside the case sits an accelerometer, a gyroscope, and a heart-rate sensor, so you're covered for pretty much any kind of exercise short of swimming. Accuracy seemed good, and the 360 places helpful but unobtrusive alerts about your goals into your stream of Google Now cards so you can easily see your progress.
The proprietary Moto Body and Google Fit are both totally fine apps if you just want very basic info, but they're not the most full-featured. I'd suggest grabbing the free Jawbone UP app for something more robust. Still, if an incredible, elegant fitness tracking experience is your top priority, I still think the Apple Watch and its signature Health app is best.

One major complaint people had with the original 360 was the poor battery life—even after serious software updates, the 360 had a hard time getting through a full day of use. Not here in version 2.0. The new 360 is quoted as having a full day of battery life (up to a day and a half), and they mean it. After the first day or two, I didn't find myself looking at the battery indicator at all, even with the ambient display always on. You could probably squeeze even more out if you had the screen go dark.
To charge the Moto 360, you pop it into a slick black magnetic charging cradle. When the watch snaps into place, it goes into an alarm clock mode that's quite nice looking and gives you the time and battery-charge level in a variety of colors. Although Motorola says the 360's charger uses the Qi wireless charging standard, don't believe the hype. Moto Mistake No. 2: The watch isn't compatible with any third-party chargers. It's the official cradle or nothing, end of story.

Conclusions
The Moto 360's recipe for success is restraint. The hardware looks nice and will appeal to the nongeek crowd. The software passes you the information you need from your phone without offering too many superfluous features. Now that Android Wear works with the iPhone, watches like this can be worthy alternatives for those sticking with iOS, and the 360 wouldn't feel out of place at all next to one of Apple's devices. 
So while you still don't need a smartwatch, there are plenty of reasons to want one. Having easy access to a stream of notifications, being able to remotely control such basic things as music playback, and quality fitness tracking are all on the list. As is simply wanting a new toy. If you're ready to jump on the bandwagon as the new technology either finds its footing or slips into obscurity, the Moto 360 is a solid choice.
Before it's here, it's on the Bloomberg Terminal.
LEARN MORE