politics
Most Agree With Trump on America's Lost Greatness, Bloomberg Poll Finds
A national survey finds that 72 percent of Americans say their country isn't as great as it once was—a central theme of front-runner Donald Trump's campaign.
By
Americans are "fed up" with politics, suspect the wealthy are getting an unfair edge, and think the country is going in the wrong direction, according to a new Bloomberg Politics poll that lays bare the depth and breadth of the discontents propelling outsider candidates in the Republican presidential field.
The survey shows that 72 percent of Americans think their country isn't as great as it once was—a central theme of front-runner Donald Trump's campaign. More than a third prefer a presidential candidate without experience in public office.
Read the questions and methodology here.
Three of the four candidates leading the Republican field fit that description: Trump, the first choice of 21 percent of registered Republicans and voters who say they lean that way, followed by neurosurgeon Ben Carson with 16 percent, former Florida Governor Jeb Bush with 13 percent, and former Hewlett-Packard CEO Carly Fiorina with 11 percent.
Fiorina and Carson have seen the strongest gains among Republicans since the survey was taken a month ago. In the interim, voters have had their first extended looks at the candidates in two nationally televised debates. Fiorina's numbers, at 1 percent in the August poll, leaped by 10 percentage points while Carson jumped 11 percentage points, up from 5 percent. Trump's numbers have remained unchanged. Together, the three candidates who have never held political office account for 48 percent of the Republican vote. 
"At some level, it is a risk to elect a person with no experience in government," said J. Ann Selzer, president of West Des Moines-based Selzer & Co., which conducted the poll. "Republicans, especially, seem ready to take that risk."
After nominating politicians with solid government resumes again and again, Selzer said, the electorate seems interested in going another direction. "They see a nation falling behind or outright failing," she said. "Whether it is an act of courage or an act of despair, more than a third are opting to take the risk of backing a genuine outsider."
Thirty-seven percent of Americans say they're more drawn to a presidential candidate who is a government outsider but who has also been a leader, handled complex issues, and managed teams to get things done. Among Republicans and those who lean that way, the preference for outsider candidates is even more pronounced: 51 percent, compared to  24 percent among Democrats. 

Florida Senator Marco Rubio, the youngest candidate in the field and an impassioned speaker, has made an impression on voters. His 60 percent favorability rating was second only to Carson's 68 percent. Fiorina, a relative novice to the national stage, matched Bush, the son and brother of presidents, at 57 percent.

"She's very articulate, has great control, is intelligent," said Paula Gartside, a 50-year-old paralegal and substitute teacher in Pennsylvania who is supporting Fiorina after being impressed by her last debate performance. "I don't think she pulls any punches. What you see is what you get."
The two candidates with the highest unfavorable ratings are Kentucky Senator Rand Paul, at 42 percent, and Trump, at 40 percent. Still, those who like Trump are strongly supportive. "He's an outsider," said Darleen Starcher, 61, a North Carolina resident who likes Trump. "He's not wanting or caring about being politically correct. He wants to make us better again. He wants to make us No. 1 again."
The primary campaign is playing out before an electorate that's in a sour mood, with 66 percent of Americans saying the nation is headed in the wrong direction. That's the highest level recorded in a Bloomberg national poll since December 2013, when the economy was in worse shape than it is today. Given a series of choices about the greatness of America, 47 percent picked "falling behind," while 25 percent said "failing." Asked to name the biggest threats to American greatness, more cited "moral decay" (32 percent) and "our own lagging work ethic" (27 percent) than the rise of the Islamic State (26 percent) and competition with China (21 percent). A quarter of those responding also cited a "concentration of the nation's wealth among a very few individuals."
Economically, the poll shows the nation's mood is bittersweet. On overall financial security, 27 percent of Americans say things are getting better, compared to 15 percent who say their situation is getting worse. The same pattern holds for job security (20 percent better, 13 percent worse) and market value of home (29 percent better, 14 percent worse). On performance of investments, 21 percent of Americans say their situation is getting worse, compared to 18 percent who say better. For all four economic indicators, the percentage of people saying they expect their situation to get better is lower than it was five months ago when Bloomberg asked similar questions.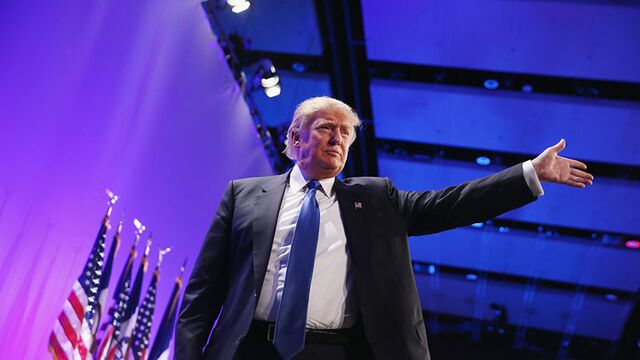 And while a majority of 54 percent say they're moving closer, not further away, from their hopes for their career and/or finances, there are other indications of simmering economic discontents: a much larger majority—70 percent—say they see the gap between rich and everyone else as getting bigger. And 73 percent say that the tax code should be reformed so the wealthy pay proportionately more than middle-class people, a theme that's been picked up by candidates running the ideological gamut from Trump to Vermont Senator Bernie Sanders in the Democratic race.
Nearly three-quarters of Americans say they're fed up with politics and think it amounts to "people playing games," while 59 percent say the political system is broken and the nation needs to "just start over." Yet if citizens are disgusted, they are not cynical about democracy. Only 30 percent think their vote doesn't matter and most believe that the political process is important.  Just 19 percent agree with the statement "I'm not affected by politics—it doesn't matter which party is in power." Asked for their review of the 2016 campaign so far, 53 percent rated it "entertaining."
The poll of 1,001 U.S. adults, including 391 registered Republicans and Republican-leaning voters, was conducted from Sept. 18-21. The margin of error on the full sample is plus/minus 3.1 percentage points 
—Freeman Klopott contributed to this article. 
(Correction: In an earlier version of this story, the fourth paragraph should have reflected that Fiorina has run for, though never held, public office.)
(Corrects fourth paragraph to reflect Fiorina has run for public office before.)
Before it's here, it's on the Bloomberg Terminal.
LEARN MORE