Merkel to Step Up Refugee Funds for German States Amid Influx
by and
Berlin to take on direct assistance to asylum applicants

Measures to ease cost burden after regional leaders bristled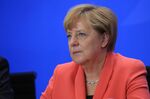 Chancellor Angela Merkel said her government will step up financial assistance for Germany's states as they struggle with an influx of hundreds of thousands of refugees.
At least 3.7 billion euros ($4.2 billion) in federal funds will be channeled to regional governments to deal with the crisis, according to a government statement released after Merkel and state premiers negotiated the deal in Berlin on Thursday. That's more than the 3 billion euros ($3.4 billion) that Merkel promised on Sept. 7, and she said the outlays may rise further if refugee arrivals exceed estimates.
"The states are being confronted with enormous challenges and we need fair burden-sharing" with the federal government taking on "financial risk," Merkel told reporters after the talks. She expressed confidence that her government's goal of maintaining a balanced budget won't be endangered.
Responding to complaints by state leaders about lagging assistance from Berlin, Merkel said her government agreed to take over direct funding to support refugees during their asylum application, a burden that now falls on states. The federal government will make a 670-euro payment for each incoming refugee per month and offer financing for housing, she said.
With an official estimate of 800,000 refugees expected to arrive this year, municipal and state administrations in Germany are buckling under the task of housing, feeding and registering those fleeing from war and poverty.
Merkel said her Cabinet plans to approve the measures on Tuesday and they will probably take effect Nov. 1 after parliamentary approval.
On top of assistance to the states, Merkel has set aside an extra 3 billion euros in direct federal spending on refugees in the 2016 federal budget.
Before it's here, it's on the Bloomberg Terminal.
LEARN MORE