Photographer: Paul J. Richards/AFP/Getty Images
Culture
How Un-Luxurious Is Pope Francis, Compared to His Predecessors?
Counting the ways in the which the People's Pope earned his nickname.
by
Popes have been associated with fine living for many centuries; one pontiff reportedly died after overindulging in too much melon, while another sold sin-forgiving indulgences to help pay for treats like his pet white elephant. Today, Vatican City even has its own tax-free, three story luxury goods store, known discreetly simply as the magazzino. It opened just over a decade ago, in the enclave's former train station. ID-enabled staffers can pick up Chanel perfume and Church's shoes, among other goodies.
In the reign of Francis—nicknamed the People's Pope and the Pope of the Poor—luxury seems somewhat incongruous. Though he presides over coffers that conservatively are worth at least $8 billion, Francis seems uninterested in spending, a radically different approach from most of his predecessors. He isn't anti-capitalist, but he emphasizes mindfulness in spending, whether personal or corporate.

Compare this to Benedict, nicknamed the Prada Pope, who had a raffish affect. He was snapped by photographers sporting sunglasses en route to meet Italy's president (no confirmation as to whether they were Gucci or Serengeti, despite much squinting) and he even commissioned a private perfume maker to create a signature fragrance solely for his use. Sympathetic observers pointed out that he may have adopted this approach to offset his bookish shyness. Lacking the charisma of John Paul II, they said, he opted to make a symbolic, visual impact.
Once he stepped aside, though, such trappings were rapidly discarded by the Holy See. While Benedict had proudly brandished an iPod nano given him in celebration of the Vatican Radio station's 75th birthday, his successor opted to donate his barely used iPad to a high school in Uruguay so it could be auctioned to raise much-needed funds. (The iPad fetched $30,500.) The most surprising thing about the fact that Francis summoned a German bishop (nicknamed the Bishop of Bling) for an in-person reprimand—after the man spent $31 million just to renovate his residence—was the fact it took him so long to notice there was a Bishop of Bling.
So let's take a moment to compare the frugality of Francis with that of his forerunners, especially luxury connoisseur and Pope emeritus Benedict.
The Pad

By tradition, on the election of a new pontiff, the Vatican's interior design squad goes into overdrive renovating the papal apartments to the new leader's personal specs. In Benedict's case, he tasked them with a three month-long overhaul that, alongside much-needed infrastructure upgrades, included such custom details as a new library for his 20,000 books, his own dental office, and room for his own piano.
It's a shame he went to such expense with plumbing and rewiring—Francis didn't even bother to instruct those decorators; he never moved in. Instead, much as he lived in a simple apartment as archbishop of Buenos Aires, the current pontiff opted for a three-room dorm at the modest St. Martha's guesthouse on Vatican City's southern reaches. He even takes meals in the the guesthouse canteen, where he makes a rare concession to luxury: Pope Francis gets fresh-squeezed OJ while the rest of the canteen must settle for a supermarket brand.
The Vacation Home

A 10-minute helicopter ride from the Vatican, the palace of Castel Gandolfo has been the Pope's weekend home since the 17th century. John Paul II, for instance, spent six of the 27 years he was pope within its confines; he installed a swimming pool to make idling there at summer weekends more pleasant. Benedict often logged two or three months there in a single stint. Who could blame them? Castel Gandolfo is a lavish Renaissance manse on the shores of Lake Albano amid sprawling gardens, an estate that stretches almost 140 acres.
Francis, no fan, rarely visits. When it comes to vacation time, the workaholic claims to prefer sleeping late and reading more. Last summer, the pope threw open the gates of its gardens, allowing ticketed tours for the first time. This year, Francis expanded public access to include the galleries inside the palace.  Best of all, he ordered that the Vatican's antique and disused railway station be reactivated, so you can arrive in style by steam train direct from the Holy See. (Tickets available here.)
The Wheels

Irked by a spendthrift approach to driving, Francis has apparently conducted spot-tests of the Vatican's parking facilities, examining the makes and models driven by his staff. "A car is necessary to do a lot of work, but please, choose a more humble one," he admonished, "If you like the fancy one, just think about how many children are dying of hunger in the world."
While Benedict preferred a German-made luxury sedan, a Mercedes, Francis has put the papal number plate SCV1 (which stands for Status Civitatis Vaticanae, Latin for "Vatican City State") on a fleet of humble Popemobiles that include a Hyundai and a Kia Soul. Even on Tuesday, when he was surrounded by black SUVs at Andrews Air Force base, Francis clambered into a gray Fiat 500L with its window wound down.
When he's off-duty, tooling around Rome, he prefers a 30-year old Renault hatchback with 200,000 miles on the clock.
The Watch

You can tell a lot about any man from his wrist jewelry. The few glimpses of Pope Francis's watch suggest he has been typically thrifty in preferring a plastic Swatch or Casio that cost less than a paperback copy of the Bible.
Both his immediate predecessors were more luxe-minded. Pope John Paul II allowed himself a rare indulgence with a signature Rolex, likely a DateJust (worth around $6,000 in stainless steel). Benedict had a similarly upscale watch, though it was wrongly reported to be a Patek Philippe Calatrava. (Loyal to his German roots, the former Cardinal Ratzinger preferred the Black Forest-based brand Erhard Junghans, wearing a timepiece that reportedly cost a couple thousand bucks before it was given him by a local politician.)
That's nothing, compared with Patriarch Kirill, head of Russia's Orthodox church. When waggish bloggers began gossiping about a shot on his website that showed Kirill's $30,000 Breguet timepiece, the photo was discreetly retouched to leave his wrist bare.
The Shoes

Benedict earned his nickname as the Prada Pope because of his noteworthy fondness for natty blood-red loafers that most assumed were Miuccia-made. Indeed, those ruby kicks helped earn him the honor of being named Accessorizer of the Year by Esquire. Though Prada's spokesperson refused to confirm or deny the link—claiming to lack "the necessary elements" to answer, whatever that might mean—it turned out that those shoes were custom made by several Italian cobblers, none of them Prada. Once he retired to become pope emeritus, though, Benedict forwent every trapping of the papacy, scarlet slippers included.
Like John Paul II, who was known for his somewhat scuffed, brown shoes, Francis has opted for comfy, workmanlike footwear; he wears medical orthotics.
The Robes

Benedict's splashiest decisions when he became pontiff involved the ceremonial robes he wore, making him an unabashed clerical clotheshorse. He revived centuries-dormant traditions, with brightly colored hats and capes once more becoming commonplace, including a lime green number that was much-discussed behind Vatican walls. He championed lavish robes, tasking newly anointed cardinals with filling their closets with cassocks from the traditional priestly outfitter, Gammarelli, in Rome; it cost at least $5,000 per person. (If you want to follow in their footsteps, the store is open to the unfrocked. Mortals yearning for a special souvenir can pick up the same superfine socks in red, black, or purple.)
Francis frowns on fripperies. Moments after he was elected pope, he made it clear the days of silk and ermine had passed by declining to put on his predecessor's fur-trimmed cape. "Carnival time is over," he is reported to have said somberly. His régime has proven a boon for Euroclero, the Vatican's version of Forever 21, which sells cheaper robes—more washable and durable, albeit just as shiny—for a few hundred euros. And Francis has tapped the tailor used by John Paul II to make simple robes in white cotton for him.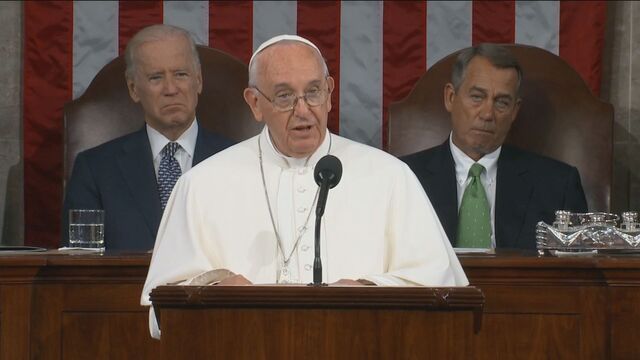 Before it's here, it's on the Bloomberg Terminal.
LEARN MORE