Box Tries a Little Repackaging
The small file-sharing company is leaning on big partners.
By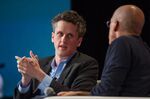 For better and for worse, Box is the No. 2 seller of file-sharing software to businesses—a crowded $892 million market where profit margins are slim. Although Box has exceeded analysts' expectations for two quarters in a row and is on track for about $300 million in sales this year, it's also projected to lose about $200 million, and its shares have fallen below January's initial public offering price of $14. Most people use the free personal version of its software, which gives them 10 gigabytes of storage space, while the typical business user pays $15 a month for unlimited storage and extra features such as security reports and custom branding.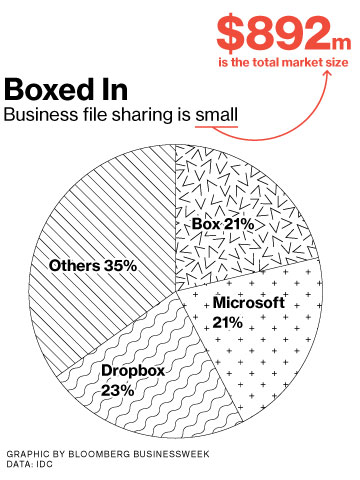 Aaron Levie, Box's chief executive officer, is betting there's a much bigger market lying just out of sight. He's trying to persuade tech industry leaders to use Box as the (or at least a) file-sharing component of their business apps, hoping that leads other companies to build Box into their enterprise software, too. Levie wants to turn Box into an app maker's default tool of choice for the transfer of documents, photos, or videos. "That's a pretty dramatic change in the types of conversations we have with customers, in the types of industries we can go after, in the relevance we can have," he says. "It kind of changes the whole landscape for us."
In June, Levie announced a deal with IBM to integrate Box with its data analysis and security software. "Box is a really innovative company that is transforming the cutting edge of ways employees interact," says Inhi Cho Suh, IBM's vice president of strategy for analytics. That deal followed a Levie team-up with Microsoft that's allowed users of Office cloud software to save files in Box. Apple's sales teams are pitching Box to business customers, while iOS developers are working with Box to incorporate its file-sharing tools into health-care apps. Apple CEO Tim Cook will appear onstage with Levie on Sept. 29 at the BoxWorks developers conference.
Outside the tech industry, Levie has persuaded companies including Coca-Cola, the National Basketball Association, and Creative Artists Agency to sign agreements to incorporate Box into the apps they use for tasks like procurement and data transfer. Coke started using Box in June after Levie made the tweaks the company needed to work with its software, says Alan Boehme, the soda maker's chief technology officer. "I have not seen anyone in this space move as aggressively," he says. Coke software using Box will include an app to exchange marketing designs with outside companies and possibly one to manage vending machine specifications, according to Boehme.
Several Box engineers spent much of August at the NBA's offices, showing the league's staffers how to work the software into their code. Using Box, the NBA is working on an app that can distribute rough cuts of game video to broadcast partners outside the U.S., says the league's chief information officer, Michael Gliedman. Box is also targeting data-heavy companies in industries such as banking and health care that place a high priority on compliance and security. Those are areas where Box's software is superior to business file-sharing leader Dropbox and No. 3 player Microsoft, says Rob Owens, an analyst at Pacific Crest Securities. Dropbox declined to comment.
Levie's efforts to widen Box's purview will likely get a little awkward. The Box CEO is so effusive about Microsoft head Satya Nadella that it's sometimes tough to tell which company he works for. Despite the partnership, Microsoft's OneDrive is Box's biggest competitor for large business contracts, Levie says. Box's new sales strategy will also put it head-to-head against makers of content-management software, including IBM and EMC. "It's a very lofty goal, but that's not a bad thing," says Owens. "Things are getting better at Box. They are narrowing the losses and still growing."
Shifting Box's business model toward integration with other apps won't happen overnight, especially because most of its 50,000 business customers haven't heard Levie's new pitch. He says he's aiming to get the company breaking even, at least in terms of cash flow, within a year and a half. "We have some work to do," Levie says. "These are the very initial phases of a very long journey."
The bottom line: Box is trying to win business with big companies to offset its $200 million in projected annual losses.
Before it's here, it's on the Bloomberg Terminal.
LEARN MORE