Diesel Scandal Threatens VW's Slim Global Sales Lead Over Toyota
by and
The Japanese company trailed by fewer than 20,000 vehicles

Deception on diesel emissions suggests `dark side' to growth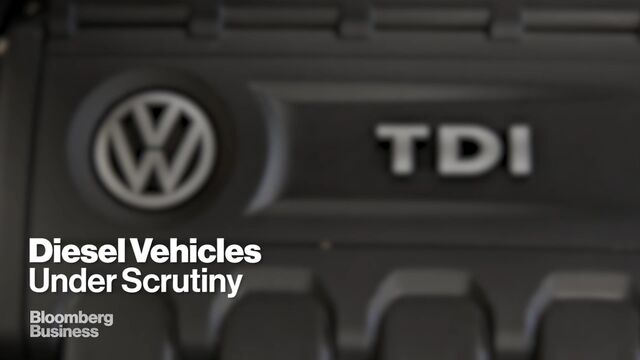 Volkswagen AG's admission that it cheated on emissions testing for diesel engines cost Chief Executive Officer Martin Winterkorn his job. It also threatens a prize he pursued throughout his tenure: the global auto sales crown.
After years of trailing Toyota in the number of cars sold worldwide, Volkswagen delivered 5.04 million vehicles in the first half of 2015, or about 20,000 more than the Japanese company.
But since then, VW has reported declining demand in China, the market that had paced its run for the industry's top spot. The revelation that 11 million of its vehicles have software designed to circumvent air-pollution rules could cut the company's sales by as much as 400,000 vehicles next year, Morgan Stanley predicts.
"Winterkorn appeared ready to bask in the glory of seeing VW become the world's largest automaker," said Karl Brauer, an analyst at auto researcher Kelley Blue Book. "But VW's intentional, widespread effort to deceive regulators across the globe suggests a dark side to the company's growth."
Shortly after becoming CEO in 2007, Winterkorn set a goal of leading the global auto industry in sales. To maintain the edge that VW finally achieved in this first half of this year, Winterkorn's successor will have to begin cleaning up the diesel emissions mess while stemming sales declines in China, where the auto market is poised to contract for the first time in decades. VW declined to comment for this story.
After reporting global sales declined 0.5 percent during the first six months of 2015, Volkswagen said July deliveries slumped 3.7 percent. While Toyota's sales fell 1.5 percent in the first half, the company says its China deliveries have risen 13 percent this year through August, driven by demand for its new Corolla and Levin compacts.
Bragging Rights
"There was already a risk of Volkswagen losing its lead because China sales have been pretty weak, and Toyota's have been relatively strong," said Steve Man, an industry analyst with Bloomberg Intelligence in Hong Kong.
The pursuit of the top spot goes beyond simple bragging rights. Fiat Chrysler Automobiles NV CEO Sergio Marchionne is seeking a merger with GM, arguing that in the auto business, bigger is better because larger companies can more easily shoulder the steep costs of developing new models.
In a report Wednesday, Morgan Stanley's Harald Hendrikse compared the Volkswagen scandal to Toyota's 2009-2010 unintended-acceleration crisis and GM's ignition-switch recalls over the past year. Hendrikse estimated Volkswagen may see sales decline by 1 percent to 4 percent, or 100,000 to 400,000 vehicles as a result of the diesel revelations. He said the affair would also threaten profits because the company will face higher costs for emissions compliance and may need to discount its cars to get shoppers back into showrooms.
Toyota President Akio Toyoda deemphasized the carmaker's global sales ranking after the unintended-acceleration recalls, urging instead what he calls "sustainable growth." Toyota didn't build any assembly plants for two years, and new factories planned for China and Mexico won't begin production until later this decade.
"Rather than the chasing specific volume targets or trying to outsell our competitors, our focus is firmly on making ever-better cars and achieving sustainable growth," said Toyota spokesman Nicholas Maxfield.
The current scandal may spur a similar reconsideration of the global sales target at VW, said Takeshi Miyao, an analyst at researcher Carnorama in Tokyo.
"Volkswagen is at the stage now that it needs to know itself before discussing what its priorities are," he said. "It looks like a kite missing its string."
Before it's here, it's on the Bloomberg Terminal.
LEARN MORE