Did Privilege Enable Volkswagen's Diesel Deception?
Few complained about Volkswagen's special privileges while it was producing good cars. But it turns out it wasn't.
By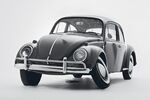 In Italy, the privilege is called potere speciale; in France, action spécifique; in the U.K., it's a "golden share." Those are all different names for an ownership stake that gives a government—be it national or local—special powers above any other shareholder. That makes a crucial difference in running a business. Governments, for example, have good reason to prevent jobs from moving to more competitive labor markets. A golden share can help with that.
In Europe, most golden shares are held in utilities and telecoms, companies that were state monopolies before being privatized. For more than a decade, the European Union, as it expanded and liberalized its common open market, has been trying to undo the persistence of state control. But there is one golden share that has endured, a German law so breathtakingly exceptional it can only be called what it is in fact called—"das VW-Gesetz," the Volkswagen Law. It is explicitly designed for a single company. Germany has managed to defend its golden share against the EU because VW had built a reputation as a force for good: responsible corporate citizen, pioneer in environmental progess. That reputation has just run out of Fahrvergnügen.
Regulators in the U.S., France, South Korea, Italy, and now Germany have announced investigations into whether Volkswagen purposely designed software so its diesel engines could defeat emissions tests. The company will recall 11 million cars, and its stock has fallen as much as 30 percent on the news. The company quickly set aside $7.3 billion to cover costs related to the scandal, a figure that may fall short of the mark. On Sept. 21, Martin Winterkorn, Volkswagen's chief executive officer, apologized, looking panicked. A metallurgist with a Ph.D. who used to run technical development for Volkswagen, Winterkorn has a reputation as an engineer's engineer. But there was no easy fix here. On Sept. 23 he offered his resignation to the company's supervisory board. The board quickly accepted. "The damage done," said a board member at a press conference in Braunschweig, "cannot be measured."
The same day, Stephan Weil, prime minister of Lower Saxony, the state where Volkswagen is headquartered, announced that "whoever's responsible would be aggressively sued." He spoke at the same press conference—and on behalf of the company. Weil sits on Volkswagen's supervisory board, because Lower Saxony owns 20 percent of the company. Per the Volkswagen Law, Saxony has a controlling interest with virtual veto power—the golden share. Weil is both government minister and owner. This is a coziness that is exceptional even in consensus-driven Germany.
Publicly held German companies have two boards. Executives sit on the management board. They are in turn controlled by the supervisory board, which includes shareholders and labor leaders. Broadly, Germany's dual-board structure preserves executive independence. Yet at Volkswagen, labor has an extra friend on the top board: the state. "You have the voice of the government present in the shareholder meetings," says Carsten Gerner-Beuerle, an expert on corporate governance at the London School of Economics. "That is not something you'd see in any other board."
In Lower Saxony, labor leaders deliver votes to endemically left-center state governments, which in turn use their veto to keep Volkswagen's 72,000 German jobs in place. Working together, labor and government have extraordinary power at Volkswagen. There is no evidence to link this power to the company's diesel deception, though the setup does help shield the company from the capital markets. Porsche learned this lesson when it borrowed heavily to try to buy Volkswagen in 2008. Lower Saxony's golden-share veto protected Volkswagen, and overleveraged Porsche found itself acquired instead. "It's a strange, and a bit weird, construction," says Florian Möslein, a professor of corporate law at the Philipps University of Marburg. "There's a long history that we need to take into account."
Volkswagen was conceived in the 1930s as a company that would make cheap cars for the people—the folk. At the time, it had no shareholders. Ordinary Germans paid into subscriptions that guaranteed them a car. In 1938 the country's National Socialist government seized union assets to pay for a plant and housing for 100,000 workers, an influx that turned the tiny village of Fallersleben in Lower Saxony into what would later become the city of Wolfsburg.
The company didn't make cars for the consumer market until after the defeat of the Nazis. By then it had a new owner—the U.K., which occupied Lower Saxony and encouraged Wolfsburg to begin production of the snub-nosed cars that became a symbol of Germany's postwar economic miracle. The prewar subscribers, the labor unions, and the tax collectors of the largely rural state of Lower Saxony all had an interest in the factory. In 1960 what was then West Germany wrote the Volkswagen Law. It enshrined those interests, giving a little bit to everyone.
That eventually brought Germany into conflict with the EU. In 2000 the European Commission—the EU's executive body—began enforcement actions against the golden shares that remained in the newly privatized utilities in several countries. It acted against Italy for its shares in Eni, the former state oil company; against France, for its holdings in Elf Aquitaine, another oil company; and against the U.K. and its British Airports Authority. Several countries responded by defining their golden shares more narrowly, exercised only to defend a compelling national interest.
"The case of Volkswagen is peculiar because we are not dealing with public services," says Daniele Gallo of Luiss Guido Carli University in Rome. "We are dealing with a company that sells cars." In 2007 the commission won a judgment in the European Court of Justice against the Volkswagen Law. Germany, which usually follows the court's judgments, responded instead with improvisation and duct tape: It struck some of the law's provisions, which Volkswagen immediately added to its own bylaws. Lower Saxony retained its de facto veto over major decisions. The EC challenged, but the Court of Justice upheld the rejiggered law in 2013.
"It's very hard to justify the existence of this specific law," says Werner Eichhorst, who runs European labor policy for the Institute for the Study of Labor in Bonn. The close relationship between two of the company's power blocs—Lower Saxony and the labor unions—has kept wages high and put upward pressure on pay at the country's other car manufacturers. But this is a roundabout way of managing a country's labor policies. Germany's other carmakers and its medium-size family businesses—the Mittelstand—don't get laws tailored and retailored for them. Yet they have remained comparatively resilient during the last decade of boom, crisis, and recovery. The Volkswagen Law, says Eichhorst, has really only managed to do one thing: keep jobs in Lower Saxony.
It was unpopular to argue that the law had to go when Wolfsburg know-how was making clean, fast, fuel-efficient cars. Now, it's clear Volkswagen wasn't making any such thing. When corporate structures are opaque, says Möslein of Philipps University, they produce bad outcomes. The core problem at VW, he says, is the law that bears its name. It's made the company inflexible and badly managed. And it was hard to see that until the deception came to light.
With his golden share and veto power, Prime Minister Weil will have to decide who will next lead Volkswagen. He should consider lobbying his federal government to finally rewrite the Volkswagen-Gesetz. It's time for the state to get out of the automaking business. Volkswagen should become as free as any other German company.
Before it's here, it's on the Bloomberg Terminal.
LEARN MORE