Corruption and Pollution Top China's Worry List, Poll Finds
by
Chinese public also concerned about widening income inequality

Satisfied with economic growth that threatens traditions
The Chinese public sees corrupt officials, pollution and rising inequality as their country's top three problems and remains divided about how quickly those issues will improve over the next five years, according to a poll released Thursday.
About 84 percent of 3,649 Chinese adults ranked corrupt officials as their biggest worry, while only about 20 percent cited corrupt businesspeople, education, unemployment, traffic and working conditions as very big problems, according to the Pew Research Center poll.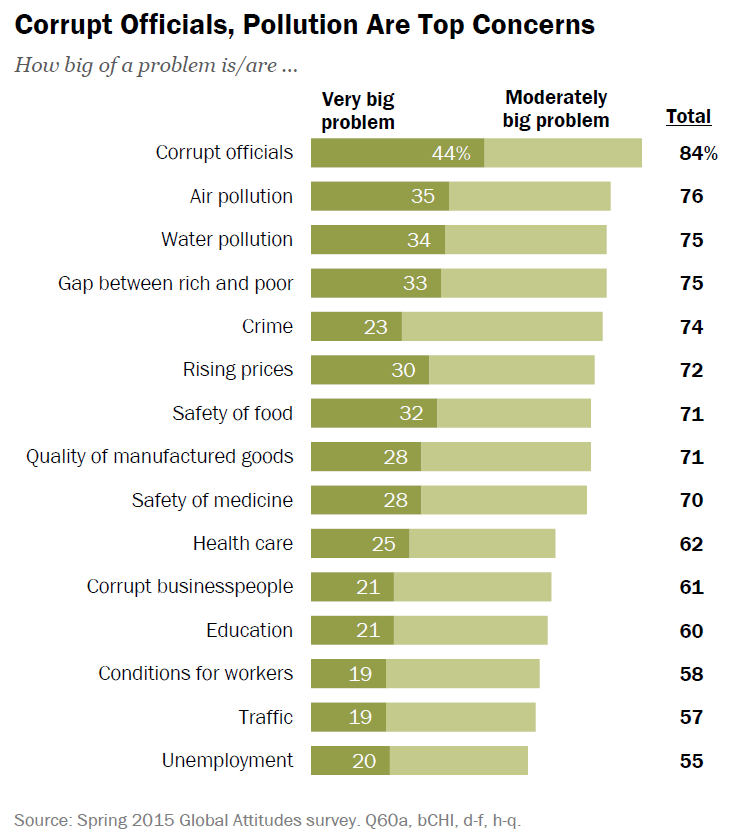 Almost three quarters of the respondents identified pollution and the widening gap between rich and poor as the next most troubling issues among the 15 included in the survey.
The poll is based on face-to-face interviews conducted from April 15 to May 27 with a nationally representative sample of randomly selected adults.
The concerns show Chinese public awareness of the negative side effects China's remarkable economic growth has had, including the loss of their traditional way of life in exchange for the modern, consumption-driven lifestyle they now enjoy, Pew said. Chinese are significantly happier with the state of the Chinese economy and less worried about inflation than they were in 2008, while concerns about food and medicine safety rose by almost 20 percentage points, according to the findings.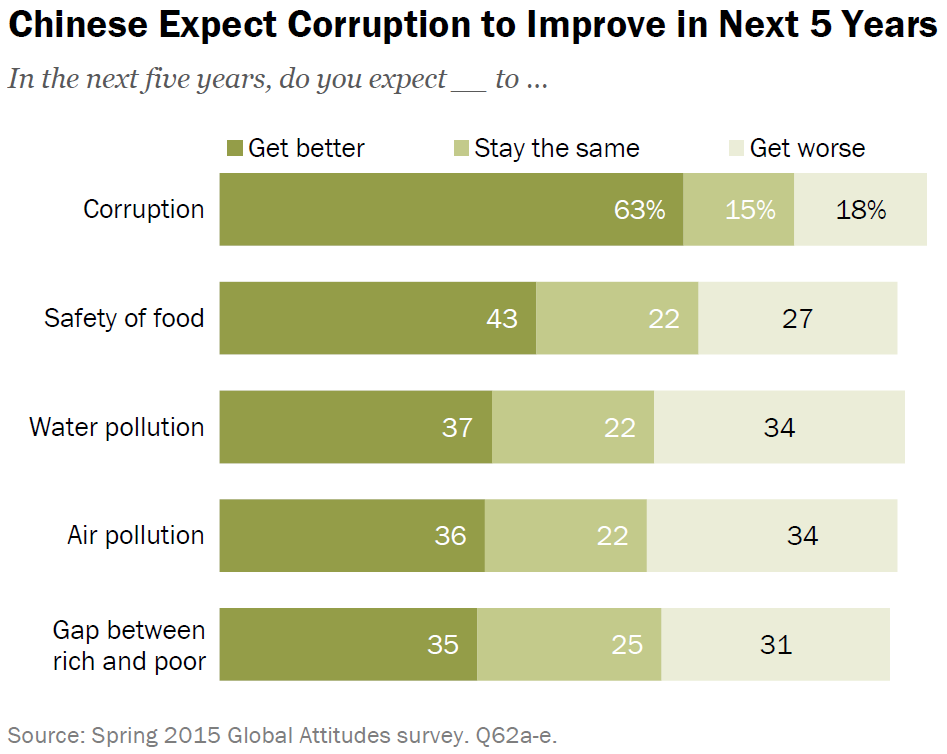 About 43 percent of respondents said they are optimistic progress will be made on food safety. More than 60 percent said they believe corruption will be reduced within five years.
That may be explained by the fact that President Xi Jinping, who took office two years ago, has made weeding out corrupt officials a priority. Xi, who is making his first state visit to the U.S. this week, has cracked down on the issue touching every level of government, the Communist Party and military.
Respondents were less united on prospects for a cleaner environment and less inequality, according to Pew. About 35 percent of those surveyed said they believe inequality will get better while 31 percent thought it will get worse. Similar divides were shown on air and water pollution.
Before it's here, it's on the Bloomberg Terminal.
LEARN MORE