Caterpillar `Bites the Bullet' as Oil Rout Compounds Mining Pain
By
Cost cutting will drive up to 10,000 job losses through 2018

Shares tumble as CEO flags challenges in energy and mining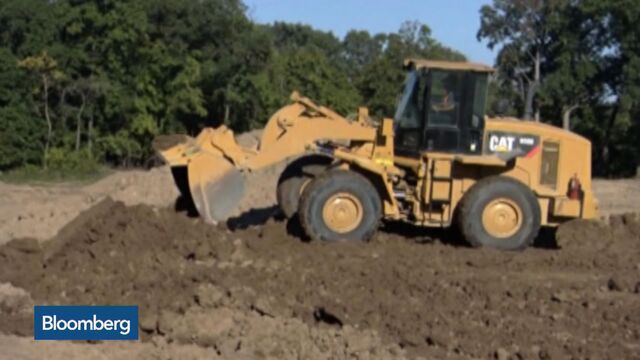 The last time Caterpillar Inc. cut thousands of jobs, a mining slowdown was to blame. Now the main culprit is oil, as slumping prices batter drillers.
On Thursday, the world's most valuable machinery producer announced a plan to cut as many as 10,000 jobs, or 9 percent of its workforce, through 2018 as the effects of crude's collapse ripple through the industry. The measures -- including the second reduction in sales guidance in two months -- represent the biggest round of cuts since 2013, when the company reduced its headcount by 13,000 as sales to metal producers declined along with prices.
The announcement marks a capitulation to a prolonged downturn in energy, the segment that had helped shield Caterpillar's earnings as mining slumped and construction growth remained tepid, according to Bloomberg Intelligence.
"They've finally opened up the manila envelope that says 'doomsday' on it and they're executing the plan that they hoped they would never have to execute," Sameer Rathod, a San Francisco-based analyst at Macquarie, said by telephone. "No one knows what the shape of the downturn looks like or any shape of the recovery."
The Peoria, Illinois-based company will cut as many as 5,000 workers this year and another 5,000 by 2018. It reduced a 2015 revenue projection by $1 billion and said sales are expected to drop 5 percent next year as 2016 results will decline across the company's three largest segments led by "the most significant decline in the oil and gas portion of our energy and transportation segment."
In July, Caterpillar also lowered its sales guidance by $1 billion.

Shares Slump
Caterpillar fell 6.3 percent to a five-year low of $65.80, the steepest loss in the Dow Jones Industrial Average. The stock has lost 28 percent this year, the biggest annual drop since 2008. The MSCI Emerging Markets Index has fallen 18 percent in 2015 while the Dow is down 9.8 percent.
The consolidation may affect more than 20 plants, part of a plan that will save about $1.5 billion of operating costs annually and cost about $2 billion pre-tax, it said.
Headcount was 111,247 in the second quarter. The elimination of 13,000 jobs in 2013 marked a 5.5 percent reduction at the time, according to data compiled by Bloomberg.
No Backlog
"When they finally went negative in energy, they said 'we have to bite the bullet'," Karen Ubelhart, an analyst at Bloomberg Intelligence in New York, said in an interview Thursday. "They basically said in the second quarter they don't have any backlog. There's no incoming orders in that segment."
Caterpillar is reorganizing only four years after making its biggest acquisition ever, spending $7.5 billion on Bucyrus International Inc., to expand into mining equipment, as it faces what it says is the first four-year sales decline in its 90-year history.
Since the 2011 deal, a slowdown in China has created a glut of metals and coal, leaving Caterpillar's mining customers with shut down mines and lots full of idled equipment.
Now, tumbling oil and gas prices are leading to a similar retreat by drillers, hitting Caterpillar's business selling energy producers the engines that run their rigs. The number of active oil and natural-gas rigs around the world has averaged 2,472 through Aug. 31, the lowest since 2009, according to data compiled by Bloomberg from Baker Hughes Inc.
"We are facing a convergence of challenging marketplace conditions in key regions and industry sectors – namely in mining and energy," Caterpillar Chief Executive Officer Doug Oberhelman said in the statement. "While they are the right businesses to be in for the long term, we have to manage through what can be considerable and sometimes prolonged downturns."