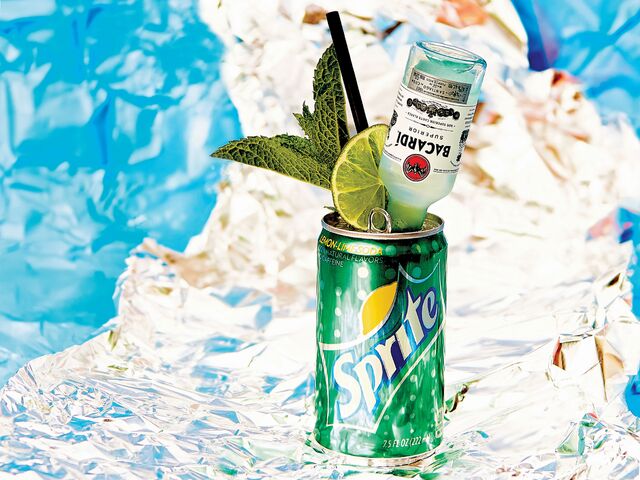 "Mixology isn't taking itself as seriously as it once did," says Eben Freeman, the man behind the bar at Genuine Liquorette, New York's latest after-work drinks spot. Freeman has the authority to say such things, having helped kick off the cocktail craze in the mid-2000s at Tailor, a restaurant where he updated old standards using ingredients such as brown-butter-infused rum and smoked Coca-Cola. Today, as the beverage director for AvroKO—an architecture firm that's behind boîtes like Genuine Liquorette on both coasts—he isn't trying to walk back that legacy so much as mellow it out.
Key to that mission is the classic aluminum can. "As we know, cans are very cool now," Freeman says. Recently, they've shown up in place of glass at bars and liquor trade shows in the form of extra-carbonated gin and tonics or precanned Negronis. In Genuine Liquorette's subterranean space, they're mixing cocktails directly into them using special garnishes and mini liquor bottles.
It sounds easy, though still requires a special machine. The Cha-Chunker, as it's called, is a mechanical press that widens the openings of pop-top soda cans and prevents them from cutting lips. The bar serves several cocktails "cha-chunk style," including a Paloma, a mojito, and a "Jamo and ginger," mixing Jameson Irish Whiskey, ginger beer, lemon juice, and bitters ($10.10). It's also offering bartending classes, after which graduates can take the helm and build cha-chunk'd concoctions themselves. The liquor selection at Genuine Liquorette is impressively vast—including everything from haute bourbon to kitschy flavored vodkas from Pinnacle—which the big distributors appreciate. Freeman thinks customers will, too. "For me, it just comes from having a sense of humor," he says.
Pop off!
Three more to try
Ballast Point
The hot San Diego brewery also makes craft spirits, which it recently began mixing into canned gin and tonics as well as rum colas.
($14.99 for a four-pack; ballastpoint.com)
Mile High Spirits
This Denver distiller calls its Punching Mule "America's first craft Moscow Mule in a can." They plan to go national next year.
($9.99 for a four-pack; drinkmilehighspirits.com)
Church Key
This Los Angeles restaurant opened in late 2013 and cans cocktails including Negronis and bloody marys
($13-15; thechurchkeyla.com), serving them alongside seared foie gras and rib-eye for two.
Before it's here, it's on the Bloomberg Terminal.
LEARN MORE