Brazil's Real Rebounds From Record as Ibovespa Ends 5-Day Rout
by and
Currency now down 33% this year, worst among major tenders

`The currency looks extremely oversold,' says Credit Agricole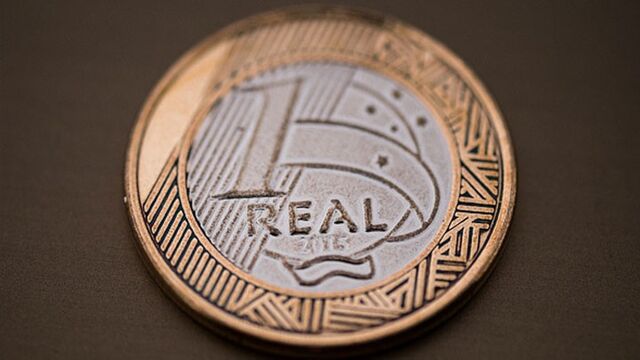 Brazil's real rebounded from a record low and gained the most in seven years as the central bank vowed to act to stem its rout amid doubts the government can shore up the economy. Stocks declined for a sixth day.
The currency surged 5.8 percent to 3.9507 per dollar after hitting a record low of 4.2478. The real has lost 33 percent this year, the most among major currencies, as the country lost its investment-grade rating from Standard & Poor's amid concern President Dilma Rousseff will struggle to win support for spending cuts and tax increases she says are needed to shore up the budget. One-month implied volatility rose and was the highest in emerging markets.
"The currency looks extremely oversold," said Mark McCormick, a strategist at Credit Agricole in New York. "While recent moves by the central bank may shore-up sentiment to a degree, direct intervention may be required if selling persists."
Policy makers stepped up their currency-support program for the first time since March, as central bank President Alexandre Tombini said the country could use its foreign reserves if needed and pledged to stay vigilant. The central bank will ignore pressure to increase borrowing costs and officials are confident that keeping rates on hold will tame inflation, Tombini told reporters on Thursday. Swap rates on contracts expiring in January 2025, a gauge of expectations on interest-rate moves, plunged the most on record.
"The increase of interest rates in the market will not be used as a guide for monetary policy," Tombini said during a surprise appearance at a press conference. "The monetary policy that we are reiterating is the stability of the Selic rate for a sufficiently prolonged period of time."
The central bank held two different foreign-exchange swap auctions Thursday, selling 20,000 contracts in the first one and to extend maturities of 9,450 contracts in the second. It announced the sale of additional 20,000 on Friday.
The central bank resumed new sales of the instruments Wednesday. A similar program was in place from August 2013 to March 2015 amid efforts to crack down on inflation.
"Brazil is facing a confidence crisis and this is reflected in the currency," Christian Lawrence, a currency strategist at Rabobank, said from New York. He said the central bank's offer to make credit lines available is doing little to support the currency and that it shows "panic."
The Ibovespa stock benchmark index fell 0.1 percent to 45,291.96 at the close of trading after earlier dropping as much as 2.6 percent. Its down 6.7 percent in the past six days. Voting shares of mining company Vale SA contributed the most to the gauge's decline Thursday.
"The day started with panic, which brought stocks to such low levels that some people started to see as attractive," Fernando Goes, an analyst
at the brokerage firm Clear Corretora, said from Sao Paulo.
Steelmakers Cia. Siderurgica Nacional SA and Usinas Siderurgicas de Minas Gerais SA rallied as the weakening of the real fueled bets that imports of steel products are poised to fall, increasing domestic demand for their products.
Brazil's central bank said in its reference outlook published Thursday that the economic contraction will more than offset a weaker currency, allowing it to hold interest rates in the face of a worsening inflation outlook.
Policy makers increased their 2016 inflation rate forecast to 5.3 percent, up from 4.8 percent, according to the reference outlook. They said the growing gap between inflation expectations and their 4.5 percent target is still relatively narrow, reiterating that they can meet their goal by keeping interest rates unchanged at 14.25 percent for a prolonged time.
Distortions in Brazilian markets are intensifying and pricing suggests the benchmark Selic rate would rise to 16.75 percent by March 2016, according to Win Thin, the global head of emerging-market strategy at Brown Brothers Harriman & Co. in New York.
"That's very aggressive, and is almost certainly due more to risk aversion pushing up the local yield curve than to expectations for actual hikes," Thin wrote in a note to clients.
Before it's here, it's on the Bloomberg Terminal.
LEARN MORE