Ana Botin Is Undaunted by Brazil Crisis and Bullish on Santander
by and
Santander's Botin sees currency tumble hurting bank profit

Spanish bank gets 20% of profit from its Brazilian unit
Banco Santander SA withstood Brazil's 1999 currency devaluation and the near-default in 2002. Now, as some investors flee the faltering economy, sinking it deeper into financial crisis, the Spanish bank's chairman, Ana Botin, is giving the country a vote of confidence.
"They've always taken the path of making the reforms, taking the tough decisions, which are not easy for the people, not easy for the economy, and that's what's happening right now," Botin, 54, said in an interview in London. While a "more negative" scenario entailing years of economic stagnation is a possibility, she predicted a return to growth as soon as next year.

That would mark a big turnaround from this year. With the currency, stock and bond markets all plunging and President Dilma Rousseff trying to stave off calls for impeachment hearings, the government said on Tuesday it expects the economy to shrink 2.4 percent. Hamstrung by a corruption scandal involving the state-run oil company, Rousseff has struggled to push budget deficit-cutting measures through congress that are needed to shore up investor confidence and stem capital flight. The real sank to a record low against the dollar on Wednesday and is down 36 percent this year.
New Targets
Banco Santander, which makes one fifth of its profit in Brazil, will see results "dragged down" by the declines in Latin American currencies this year, Botin said.
Botin, who took over from her late father Emilio a year ago, is meeting investors in London this week to present new targets for Spain's largest lender. The bank on Wednesday said it's stepping up plans to bulk up capital buffers and aims to increase its dividend.
While the stock price's 32 percent drop this year reflects concern about slowing global growth and the selloff in emerging markets, about half of Santander's earnings come from developed markets including the U.S. and Germany, Botin said.
"It's a split between developing and developed, and that's going to give us more stability than others," she said. "So if things get quite bad, we should do better than others. Now we will be affected, but less than others."  
Brazil Revamp
Next year won't bring the same dramatic changes at Santander as the previous 12 months, when Botin raised capital and replaced top managers in key markets including the U.S. and Brazil, she said. Instead, the bank will remain focused on boosting profits and capital ratios and winning customers. Acquisitions won't be a priority, she said.
"We have huge potential just to grow with our existing customers, so we don't need to buy," Botin said in the interview.
Last month, Santander lost out on a bid for HSBC Holdings Plc's Brazilian unit to Banco Bradesco SA. The purchase would have helped Santander bolster its 598 billion reais ($143 billion) in assets in the country by adding the nation's seventh-biggest bank with 146 billion reais in assets. Santander is the nation's third-largest non-government-owned lender, according to central bank data.
The parent company owns about 75 percent of its Brazilian unit after buying out some minority investors almost a year ago. Santander Brazil is down about 2.5 percent this year.
Botin named Sergio Rial as chief executive officer of its Brazilian unit earlier this month to succeed Jesus Zabalza, who had been in charge since April 2013. The bank has changed CEOs in Brazil about every two years since it bought ABN Amro Bank NV's operations in 2007.
Customer Loyalty
"Our Brazilian business for quite a while was not performing as well as we would have liked," Botin said. "I would say that for the last year, last 18 months, we have done much better."
Botin was educated at Santander's Slaves of the Sacred Heart school and also in Switzerland and the U.K. She speaks five languages and graduated in economics from Bryn Mawr College in Pennsylvania. She went straight into banking from college and worked at J.P. Morgan, now part of JPMorgan Chase & Co., first in Madrid and then in New York, becoming a vice president at 24.
The profit squeeze in Brazil as well as in Spain, two of its biggest markets, has led some investors to question Santander's ability to bolster returns. The company had 117 million customers worldwide as of December, mainly in Spain, the U.K., Brazil, the U.S. and Mexico. The vast majority of these aren't what Santander defines as "loyal," who use Santander as their main bank.
"Customers have high expectations, so you need to deliver excellent service, you need to deliver great products, and you need to deliver them in a very cost-efficient way," Botin said. The company's strategy is "about loyal customers, it's about lasting relationships with our customers."
Technology investments have helped cut the bank's cost-to-income ratio, as more customers open accounts online, Botin said. Santander offers Apple Pay in the U.K., where the bank also developed an app to help customers track their spending, and a partnership with online loan marketplace Funding Circle enables customers to get loans when they don't meet Santander's criteria, she said.
While Santander wants to collaborate with technology companies and startups, Botin said regulators must ensure everyone plays by the same rules.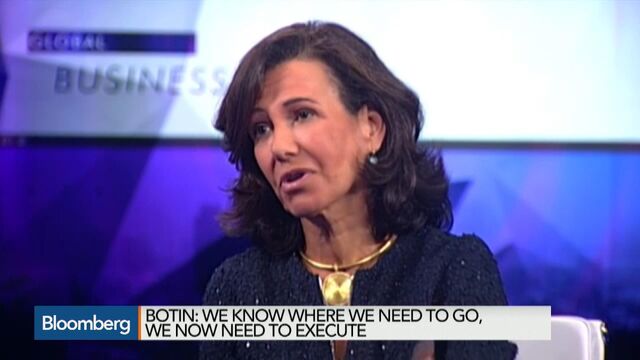 "If I share my customer information, the new entrants should share 
their customer information because otherwise it's very difficult to run a 
business," she said.
Before it's here, it's on the Bloomberg Terminal.
LEARN MORE