Abe's New Economic Plan Confounds Analysts
by and
Premier aims for 20% economic expansion and higher birth rate

Economist Mari Iwashita: "All he's done is announce targets"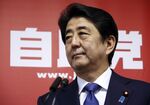 Prime Minister Shinzo Abe's reboot of his economic agenda has left analysts scratching their heads, after Japan's leader unveiled three new policy pillars without tying them to his previous plan.
Speaking Thursday after his reappointment as leader of Japan's ruling party, Abe unveiled three new "arrows" of his so-called Abenomics plan -- a strong economy, child-care support and social security. When he took office in 2012, he had championed another trio -- monetary stimulus, flexible fiscal policy and structural reforms.
The arrow metaphor stems from a legend about three arrows being stronger than one, and has been used by Abe and his cabinet to sell his campaign to revive the world's third-largest economy. But with the new policies sounding more like objectives rather than measures to achieve them, the risk is this fresh framework muddies his communication battle to encourage Japanese households and companies to spend rather than save.
"Investors like details, but all he's done is announce targets," said Mari Iwashita, chief market economist at SMBC Friend Securities Co. in Tokyo. "The growth strategy, one of the original three arrows, has branched off into three new arrows."
Speaking to reporters Thursday, Abe avoided mentioning monetary or fiscal policy, as well as tricky regulatory reforms that many economists say are already too slow. Instead, he focused on his new three objectives:
A strong economy, with a new gross domestic product target of 600 trillion yen ($5 trillion), up from the current 500 trillion yen. He gave no time-frame for achieving this goal.
Increased support for families with children to help increase the fertility rate to 1.8 births per woman, up from 1.43 in 2013.
Social security, including help for those who combine work and care for elderly relatives.


He has a chance to make things clearer Friday evening at a scheduled press conference in Tokyo.
Demographic Woes
Abe said Thursday he would combat the demographic woes facing Japan, whose 127-million population is aging and shrinking, threatening its status as the world's third-largest economy.
"We will put the brakes on the trend toward an aging population and the falling number of children and keep the population at 100 million 50 years from now," Abe said at party headquarters in Tokyo, without spelling out how this would be achieved.
Since he took office in December 2012, massive monetary stimulus and fiscal spending have weakened the yen about 30 percent against the dollar, boosting exporters' profits and stock prices, while failing to produce the promised mild inflation. Economists have called for more deregulation, especially in the labor market, to encourage corporations to invest their record cash reserves and bolster growth.
The economy shrank in the three months from April through June, and for two quarters last year after the national sales tax was increased. Abe insisted Thursday he would go ahead with a second increase in the consumption levy as planned in 2017, unless there were an unexpected event similar in scale to the 2008 financial crisis.
Abe's campaign to reflate the economy received another blow Friday, with data showing the Bank of Japan's main inflation gauge dropping into negative territory.
Direction Change
Abe's change in policy direction comes after he pushed through bills last week to expand the role of Japan's military -- criticized by many as a breach of the country's pacifist constitution -- triggered huge protests outside parliament. Support for his cabinet fell to 39 percent in a poll published by the Kyodo news agency on Sept. 20, while about half the respondents said they disapproved of his government.
"The result of Abe's security policies has been that public approval has tumbled," said independent political analyst Minoru Morita. "He is probably worried about that and is turning back to the economy as a way to claw back public support."

The government has had a growth target of boosting nominal GDP annually by 3 percent, on average, over the medium-to-long term. Its target for real growth (which discounts inflation) is 2 percent, compared with an actual figure of minus 0.1 percent in 2014 and a projected expansion of 0.7 percent this year.
On Thursday, he pledged to introduce policies that would make it easier for young people to marry and plan families. He also vowed an increased focus on tackling child poverty, and to reduce to zero the number of people forced to leave their jobs because of the demands of caring for elderly relatives.
Stocks in companies in the education and nursing care sectors rose after Abe's remarks. Cedar Co., a provider of day-care services, rose as much as 23 percent; while Benesse Holdings Inc., an operator of retirement homes, increased as much as 4.3 percent.
"His intention to tackle the demographic issue is good," said Masamichi Adachi, senior economist at JP Morgan Securities Japan. "I'm totally in agreement with that."
Even so, the former Bank of Japan official said that the growth target isn't meaningful as Abe didn't explain how, or even when, he hoped to achieve it.
Before it's here, it's on the Bloomberg Terminal.
LEARN MORE