Business
Abe's New Economic Plan Confounds Analysts
By and
Premier aims for 20% economic expansion and higher birth rate

Economist Mari Iwashita: "All he's done is announce targets"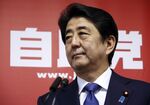 Prime Minister Shinzo Abe's reboot of his economic agenda has left analysts scratching their heads, after Japan's leader unveiled three new policy pillars without tying them to his previous plan.
Speaking Thursday after his reappointment as leader of Japan's ruling party, Abe unveiled three new "arrows" of his so-called Abenomics plan -- a strong economy, child-care support and social security. When he took office in 2012, he had championed another trio -- monetary stimulus, flexible fiscal policy and structural reforms.