politics
Pope Stops to Kiss Baby on Washington Parade Route
By and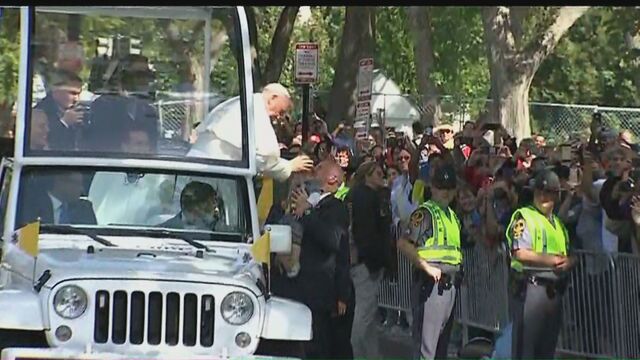 Among thousands of waving, cheering people lining Pope Francis's route from the White House, the smallest celebrants drew the pontiff's dearest attention.
At least twice the motorcade came to a brief halt. The stern-faced guards walking alongside the pope's open car found themselves with additional duty. 
Apparently at the pope's direction, a dark-suited agent stepped briskly to the barricade keeping the crowd at bay to pluck a baby from the masses. Each child was carried to the popemobile and offered up to Francis for a kiss on the head.

A young girl also made the trip beyond the fence line. She was initially stopped by security before the pope waved her on, and she was hoisted up by one of the pope's guards for a hug.
A Tactile Pope
No stranger to surprises, Francis spends much of his weekly general audiences in St. Peter's Square in Rome stroking, embracing and chatting with pilgrims, and kissing babies and children.
His desire to touch the faithful is a concern for the Swiss Guard and Gendarmerie entrusted with protecting him. They have tried but failed to persuade Francis to keep crowds at a distance.
In November 2013 in the square, he kissed a severely disfigured man suffering from neurofibromatosis. The photograph of the scene went viral.
The previous month, a young boy climbed onstage at a family event in the Vatican and refused to leave the bemused pope's side, hugging his legs as Francis delivered a speech.
In September Francis made a spur-of-the-moment trip to buy a new pair of eyeglasses at a shop in Rome's historic center. He arrived by car and spent about half an hour in the shop as a crowd gathered outside.
Before it's here, it's on the Bloomberg Terminal.
LEARN MORE