New Super-PAC TV Ad Highlights Bush Record on Taxes and Spending
Right to Rise USA is one of just two presidential campaign groups on the air in all three states that host the first three nomination contests.
By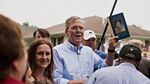 Right to Rise USA, the super-PAC backing Republican Jeb Bush's presidential campaign, started airing a pair of new television ads this week, both positive messages that promote his record as governor of Florida.
Part of a $23 million, four-month marketing campaign in Iowa, New Hampshire, and South Carolina, the ads—one 30 seconds long, the other 60 seconds, according to Right to Rise spokesman Paul Lindsey—began airing days after Wisconsin Governor Scott Walker's exited the field, urging his party to coalesce around an alternative to Donald Trump. They portray Bush as a conservative with a record of accomplishment. 
The 30-second ad first aired Wednesday morning during the "Rachel Ray" show on Derry, New Hampshire-based WBIN, according to the ad-tracking firm Kantar Media CMAG. It opens with a close-up on Bush, describing himself as "a committed conservative that believes in getting results" and shows highlights from Bush's campaign announcement, as he touts the job creation, economic growth, and tax cuts during his eight years as Florida governor. The longer version of the ad polishes Bush's conservative bona fides with favorable comments from FOX News, the Weekly Standard, and the Wall Street Journal.
A major theme of the super-PAC's campaign is Bush's record on the economy. In the super-PAC's first ad, which began airing last week, a silhouette of Bush is shown as a narrator speaks about the "governor" who helped create 1.3 million new jobs, cut billions in spending and taxes, and battled with teachers unions. "The state was Florida. The governor was Jeb Bush," the narrator says as Bush walks on screen, talking with three people in white hard hats. 
The ads represent the opening media salvo from Right to Rise USA, which raised $103.2 million in the first six months of the year. That's more than the $100.4 million raised during the same time by outside groups supporting 10 other Republicans still in the race. The super-PAC, which started airing ads in South Carolina this week, is one of two groups airing presidential campaign TV ads in all three of the states that will hold the first eliminations of the presidential campaign early next year: Iowa, New Hampshire, and South Carolina.
The other is Conservative Solutions, the super-PAC backing Bush's fellow Floridian and presidential competitor, U.S. Senator Marco Rubio. The pro-Rubio group has spots targeted in the three early voting states as well as a national cable buy announced last week. The two outside groups backing rival Floridians are the only organizations airing presidential ads in South Carolina, according to CMAG data.
The only presidential contender being promoted in at least two early states is Democratic front-runner Hillary Clinton. Her campaign is airing ads in New Hampshire and Iowa.
In Iowa, TV viewers are also being targeted by Club for Growth, a Washington-based group that is attacking Republican presidential front-runner Donald Trump, as well as by Believe Again, the super-PAC backing Louisiana Governor Bobby Jindal's presidential campaign.
New Hampshire airwaves are already being filled with presidential ads. In addition to the Clinton campaign and pro-Bush and pro-Rubio groups, TV spots are being paid for by Bush's campaign and super-PACs backing U.S. Senator Lindsay Graham and Governors John Kasich of Ohio and Chris Christie of New Jersey.