Markets in Disarray Await Yellen as Emerging Stocks Drop
By
Fed chair reiterates tightening likely to start this year

Caterpillar warns on sales, orders for U.S. gear stall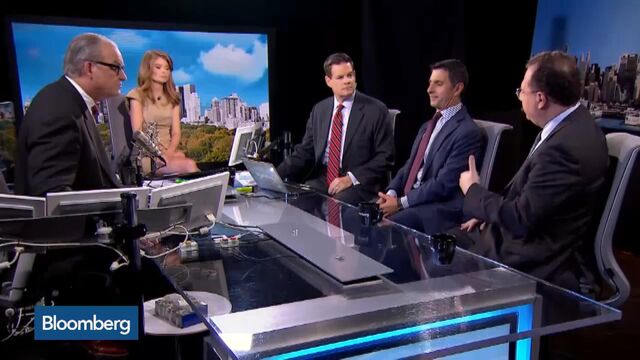 The dollar strengthened after Federal Reserve Chair Janet Yellen reiterated the central bank's stance that higher interest rates are likely appropriate later this year.
The comments came after a selloff in risk assets from equities to raw materials eased, with the Standard & Poor's 500 Index almost erasing a rout of more than 1 percent. Energy shares rebounded with the price of crude. Emerging-market equities and currencies trimmed steep declines. Copper advanced on speculation demand will get a boost from the U.S. housing market.
In a speech in Massachusetts, Yellen said most policy makers, "including myself," expect that factors weighing on inflation will be transitory and warrant higher interest rates this year. "If the economy surprises us, our judgments about appropriate monetary policy will change," she said.
The S&P 500 has fallen in five of the six sessions since the Fed held interest rates near zero on concern that financial-market turmoil and the slowdown in China may harm economies from Europe to America. 
Earlier, declines in European and emerging-market shares sent the MSCI All-Country World Index through its Aug. 25 nadir on signs that China's slowdown is hampering global growth. Data showed U.S. orders for business equipment stalled last month, while central banks in Taiwan and Norway unexpectedly cut interest rates in an in effort to stimulate growth sapped in part by falling energy prices.
Currencies
The dollar added 0.3 percent to $1.1194 at 5:13 p.m. in New York. Bloomberg's Dollar Spot Index earlier fell from almost a six-week high before Yellen's speech.
A gauge of 20 developing-nation currencies has tumbled 1.9 percent since the Fed's rate decision. Latin American currencies led by the Brazilian real fell to their lowest on record on Wednesday as they posted the steepest two-day decline in two years.
Stocks
The S&P 500 fell 0.3 percent, rebounding from a loss of 1.5 percent earlier. The gauge has dropped 3.2 percent since the Fed's decision on Sept. 17 and is 3.5 percent above its low during last month's selloff.
"We're seeing a defensively-led market today," Todd Lowenstein, who helps manage $16 billion at in Los Angeles HighMark Capital Management Inc., said by phone. "I think there are some bargains emerging in the midst of this
indiscriminate selloff. A lot of the daily trading is dominated by algorithms and quants and these dislocations can occur."
The rebound in U.S. stocks Thursday coincided with the release of research from a JPMorgan Chase & Co. strategist arguing that the "price insensitive" program traders -- which contributed to last month's losses in U.S. stocks -- may turn into buyers.
Program traders may deliver "$10 billion in purchases over the next few days," Marko Kolanovic said in a note to clients today. He added that if indexes add 2 to 3 percent in that time, additional technical buying may occur. Kolanovic's notes moved markets on Aug. 27 and Sept. 3, in both cases sparking declines after he warned of quant-fomented crashes.
"If someone's the hot hand people are going to start following them and if whenever they've said something markets move then you have to watch that," said Steve Bombardiere, an equity trader at Conifer Securities LLC in New York. "We're in an earnings void for sure, there's not a lot of news and everybody's sitting on Yellen tonight."
Fed fund futures show traders still see a less than 50 percent chance of a rate increase in January at the earliest. Odds called for a liftoff by year-end before the decision.
Bonds
Treasury 10-year note yields fell two basis points to 2.13 percent. They're down from 2.30 percent on Sept. 16, the day before the Fed's interest-rate decision inspired a bond-market rally.
The bond market's inflation outlook for the next 10 years touched the lowest since May 2009, raising questions about the Fed's ability to increase interest rates this year.
High-yield issuance ground to a halt amid continuing investor concern about the weakening commodities market. The risk premium on the Markit CDX North American High Yield Index, a credit-default swaps benchmark tied to the debt of 100 speculative-grade companies, rose to its highest in a month.
Emerging Markets
The MSCI Emerging Markets Index dropped 0.3 percent, paring a loss of more than 1 percent. Its fallen four straight days and is down 4.9 percent this week. Price swings in the index widened to the most in four years in a sign the Fed's decision to delay an interest-rate increase is leaving investors more nervous instead of calming them.
Stock markets in Singapore, Malaysia and Indonesia as well as South Africa, Turkey and most countries in the Middle East were closed for holidays.
Commodities
The Bloomberg Commodity Index edged higher as haven metals from gold to silver rallied. Bullion futures surged 1.9 percent to $1,152.70 an ounce, a four-week high, while silver added 1.6 percent.
Oil rose for the first time in three days, adding 1 percent to $44.91 a barrel in New York. Prices slipped earlier after government data Wednesday showed that U.S. refinery utilization slid 2.2 percentage points last week.
The commodity index has fallen 1.8 percent since the Fed's meeting last week, revisiting levels last seen in 1999, as West Texas Intermediate dropped 5.7 percent and the London Metal Exchange Index of metals touched a one-month low.