EU Clashes Over Border Controls to Discourage Unwanted Migrants
James G. Neuger and Edith Balazs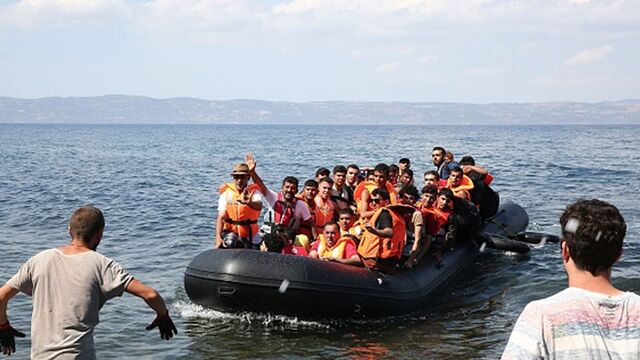 European Union leaders argued over how to tighten control over the 28-nation bloc's borders after concluding a bruising battle over sheltering refugees who manage to get in.
A summit Wednesday evening in Brussels will cover reinforced surveillance of the frontiers, especially the sea routes into Greece on the EU's southeastern flank that have become the main path for Europe-bound refugees from Middle Eastern crisis zones.
The border-management focus may ease strains with eastern EU states such as Hungary and Slovakia, which were outvoted Tuesday when the bloc required each country to take its quota of refugees mainly from Syria.
"If the Greeks are not able to defend their own border, we should ask kindly, because Greece is a sovereign country: let the other countries of the European Union defend the Greek border," Hungarian Prime Minister Viktor Orban told reporters.
The summit, which started at 6 p.m., marks the EU's third top-level migration strategy session this year. Also on the agenda are expedited deportations, efforts to end Syria's civil war and aid for poorer, migrant-swamped countries like Turkey, Lebanon and Jordan.
Debt-hobbled Greece moved to the front lines of the migrant crisis this year, when it became the EU entry point for Syrian and Iraqi refugees streaming through Turkey and across the eastern Mediterranean Sea. Greece let many through to journey north, stirring inner-EU tensions.
Quota 'Fiasco'
EU governments spent months arguing over spreading the influx across the bloc according to national quotas, culminating in an accord Tuesday that brought the number of eligible refugees to 160,000. EU President Donald Tusk said Europe is in store for far more, noting United Nations estimates that 60 million displaced people were on the move worldwide at the end of 2014.
"We need to end this cycle of mutual recriminations and misunderstandings," Tusk said. "The most urgent question we should ask ourselves tonight is how to regain control of our external borders." Striving to restore the EU's consensual modus operandi, Tusk said "a concrete plan must finally appear in place of the arguments and the chaos we have witnessed." He promised "nobody will be outvoted."
There was some evidence that Tuesday's contested vote cleared the air. Slovak Prime Minister Robert Fico called the imposition of quotas a "fiasco" and said he would go to the EU's supreme court to escape them, but conceded that Slovakia will take in refugees "on a voluntary basis." Hungary and the Czech Republic bowed to what is now EU law.
Syrian Initiative
The European Commission proposed a to-do list for the next six months, including the setup of registration centers in Greece and Italy, trust funds to pay for refugee facilities in Turkey, Lebanon and Jordan, and steps to create a European Border and Coast Guard.
German Chancellor Angela Merkel -- criticized by eastern states for an open-door attitude toward migrants -- preached calm. "Europe can have, and does have, the strength to find reasonable solutions," she said.
A summit discussion looms over how to bring peace to Syria. That might mean opening a communications channel to President Bashar al-Assad, who has obtained military support from Russia in his effort to stay in power.
Swedish Prime Minister Stefan Loefven said "no, Assad is not a partner." He and EU foreign policy chief Federica Mogherini said it's better for the UN to take the lead in a Syrian peace initiative.