ECB's Nowotny Says He's Wary of Expanding Bond-Buying Program
by and
Austrian central bank head wouldn't consider new asset classes

Shouldn't overestimate impact of Fed decision on ECB policy
European Central Bank Governing Council member Ewald Nowotny said he's wary of increasing central-bank stimulus any time soon even as policy makers struggle to boost euro-area inflation.
The question of whether more quantitative easing is needed "deserves a much more thorough examination," he said in a Bloomberg Television interview in Vienna on Wednesday. "Monetary policy should be a steady-hand policy. We shouldn't act in a too-active way."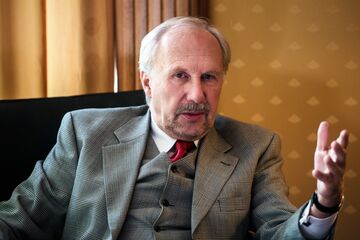 The Frankfurt-based ECB has already committed to pump 1.1 trillion euros ($1.2 trillion) into the 19-nation currency bloc in a bid to rescue the region from too-low inflation. President Mario Draghi will address European parliament lawmakers at 3 p.m. in Brussels, where he may address risks including a slump in commodity prices and a slowdown in emerging markets that could yet force the central bank to do more.
The euro-area economy probably maintained its 0.4 percent rate of expansion in the third quarter and will continue to grow amid rising orders and backlogs of work, London-based Markit Economics said in a report on Wednesday, based on a survey of purchasing managers.
'Too Early'
"There is an upswing in the euro area," said Nowotny, 71, who also heads the Austrian central bank. "It's not as strong as expected, but it is still an upswing."
Nowotny's caution on any expansion of QE was echoed by ECB Governing Council member Bostjan Jazbec, the Slovenian central-bank chief, who spoke in Ljubljana.
"Monetary policy always works with a delay," he told reporters. "At the moment there are no discussions on any other policies than QE. It seems that QE is bearing results, so now it's too early to talk about any new policies."
Spanish bonds extended declines and the euro rose after the comments by the two policy makers. The single currency was up 0.3 percent at $1.1156 at 1:17 p.m. Vienna time.
The euro has fallen from almost $1.40 since mid-2014 as the ECB ramped up stimulus with record-low interest rates, targeted bank loans and purchases of government and agency debt, covered bonds and asset-backed securities.
Export Effect
While policy makers have long argued that a weaker euro is one of the channels for central-bank stimulus to reach the real economy, by making exports more competitive, Nowotny said that link may no longer be so strong.
"We do have the feeling yes, that it has diminished," he said. "A large part of the effects of foreign-exchange changes has to be seen in the medium term and not the short term, so perhaps its too early to give a clear answer. But the first feeling is yes, there has been a certain lowering or weakening of this connection."
The ECB this month downgraded its forecasts for inflation in the next two years. It now foresees consumer-price growth of 1.1 percent in 2016 and 1.7 percent in 2017, compared with its medium-term goal of just under 2 percent. Inflation was 0.2 percent in August.
China Slowdown
Draghi said on Sept. 3 that the debate on QE hadn't yet become detailed enough to give guidance on how the program could be altered. Since then, signs that growth is faltering in China have increased, with a gauge of manufacturing falling to the lowest in 6 1/2 years on Wednesday.
The ECB currently intends to buy an average of 60 billion euros a month of public and private-sector debt through September next year. Options include extending the program's duration, increasing the monthly amount, or expanding the range of assets bought.
On the option of new asset classes, "I personally wouldn't look at them but there's a discussion about what those classes would be," Nowotny said. "A prolongation of the program has certain signaling effects, not a very direct effect."
ECB policy makers have expressed concern about the impact of the U.S. Federal Reserve's decision this month to wait before making its first interest-rate increase since the financial crisis. Benoit Coeure, the ECB's markets chief, noted that there had been "a significant appreciation" of the euro against the currencies of the bloc's major trading partners. He said the Fed nevertheless confirmed the ECB's diagnosis "of the existence of risks in the global economy."
Nowotny acknowledged that the Fed's decision affects other central banks, though said the impact on the ECB shouldn't be overestimated.
Before it's here, it's on the Bloomberg Terminal.
LEARN MORE