Diageo Says Currencies Will Lower Profit More Than Expected
By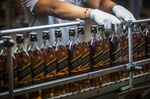 Diageo Plc said adverse currency shifts will reduce full-year operating profit by 150 million pounds ($230 million), more than it had expected previously.
The maker of Johnnie Walker scotch and Guinness stout expects "modest organic" profit margin improvement as volume improves, the company said in a statement Wednesday. London-based Diageo forecast in July that exchange-rate moves would strip 100 million pounds from operating profit. 
"This does mark a deterioration, albeit not a massive one," James Edwardes Jones, an analyst at RBC Capital Markets in London, said in a note. "The news on volumes is positive."
The pound has been 11 percent higher against the euro on average since July 1, when Diageo's financial year began. The world's biggest distiller, which is mired in a two-year sales slump, reiterated it expects an organic net sales decline of 2 percent in the first half in North America due to a tougher comparison with the year-earlier period.
The stock was little changed at 1,715 pence at 8:12 a.m. in London. Diageo holds its annual meeting with shareholders today.
Diageo expects sales growth to improve after this year, forecasting a mid-single-digit organic sales increase and a 1 percentage-point expansion in its operating margin over three years' time.