Can Joy Behar Save The View?
ABC anoints old talent to save the once-thriving show
By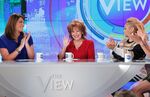 When The View's 19th season premiered on ABC in early September, Joy Behar, an original cast member who sat on the panel for 16 years before leaving in 2013, was back as a permanent co-host. The live audience was ecstatic, cheering so much it made Behar blush. Her colleagues seemed pumped. But Behar's return to The View didn't feel particularly triumphant. It felt necessary: By the time last season ended, ad revenue for the once-thriving show had dropped almost 30 percent, to $64.1 million.
When The View debuted in 1997, its conceit was revolutionary. A panel of reasonably intelligent, outspoken women from diverse backgrounds—for network television, anyhow—would banter about the news. In a landscape of perky, chatty, celebrity-and-scandal-driven programming, it became a hit, drawing up to 3.9 million viewers a week in 2009, its most popular season.
Behar became its breakout star. A former schoolteacher who had quit her job to try her luck in show business, she was a no-nonsense comedic broad. She talked fast. She could be abrasive. But she was also the conversational lubricant. Her compulsive cut-to-the-chase style kept things moving.
When Behar left The View, she told Deadline Hollywood it was because she'd been "neglecting" her stand-up and wanted to pursue new projects. The next season, viewership fell to a little more than 3 million; the next year it dropped even further. Revenue declined for ABC, which tried to staunch the bleeding, installing a new executive producer (Bill Wolff, from MSNBC's The Rachel Maddow Show) and replacing almost all remaining panelists. It didn't work. On-air conversations were alternately bland or stymied by interpersonal tensions. For the first time, The Talk—a rival from CBS with an identical format—surpassed the show in ratings.
Barbara Walters, the show's creator and herself a panelist until 2014, was said to have been displeased with the decline of her broadcast brainchild. New producers were named, and Walters reportedly ordered Behar's return. But Behar wasn't champing at the bit to come back; she had been starring in her own one-woman show.
The timing with the election cycle convinced her, she says. "I'm not a major fan of pop culture," she admits. "How much can you say on Kim Kardashian, you know? With the political scene there's always something interesting to talk about."
On her first day back, Behar politely met her new co-hosts: Candace Cameron Bure, the new resident blond conservative; Raven-Symoné, the millennial who doesn't have a grasp on serious issues; Paula Faris, a Good Morning America alum; and comedians Whoopi Goldberg and Michelle Collins. They animatedly talked headlines. Then Senator Elizabeth Warren (D-Mass.) showed up, and Behar was so excited she held hands with her. Each subsequent day served up the requisite amount of gossip, but Behar also got the politics talk she came for. Day Two saw her criticizing Jeb Bush's failure to address Iraq. Donald Trump called in on Day Three. By the end of the week, Behar was back to running the show. "Everyone's kind of energized by [Joy's] love of politics," says Candi Carter, the new consulting producer.
Still, Season 19's debut ratings were down 22 percent from last year's debut. "Audience demographics are changing," says Erik Brannon, an analyst for IHS, a television consultant. "Networks are relying on paid subscriptions to get their content out to an audience that's moving online." In other words, there's no reason to watch Behar and Faris debate Carly Fiorina's new ad when your Facebook feed is inundated with friends doing the exact same thing. Why watch a group of women gabbing on TV when you can have your own real-time conversation?
Behar, for her part, hasn't stopped courting drama. The week following the season premiere saw her apologizing repeatedly after mocking a Miss America contestant for being a nurse. Two sponsors pulled their ads, and a hashtag campaign vilified the show. "I just was not paying attention," she told her adoring audience. "I didn't know what the hell I was talking about."
Before it's here, it's on the Bloomberg Terminal.
LEARN MORE