business
Brazil Real Tumbles Most in Four Years as Investors Rush to Sell
By
Traders shrug off central bank interventions to stem drop

Currency touches weakest level since it debuted in 1994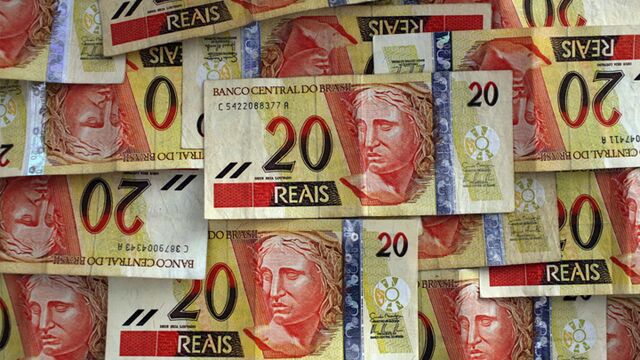 Brazil's real fell for a fifth consecutive day and reached a new record low, with the rout in the currency gaining momentum as investors sell amid concern the country's finances are deteriorating.
Even as the central bank intervened through two different auctions to support the real, the currency tumbled 3.1 percent to 4.1783 per dollar, a level unseen since the creation of the real in 1994 and the worst performance for a day since Sept. 21, 2011. The country's bond risk rose, yields on local government securities jumped and investors boosted wagers on higher interest rates over the coming years.
Brazilian assets have been beaten up this year on concern that President Dilma Rousseff lacks the political and popular support to push through spending cuts and tax increases that would shore up the country's finances. The selloff has been exacerbated by concern about slowing global economic growth and speculation that a Federal Reserve interest-rate increase will spur an outflow of investment from emerging markets.
"A lot of investors are selling the currency at any price as we enter into free fall," said Bernd Berg, a strategist at Societe Generale in London. "In this environment of forced selling, panic and sky-high volatility, the moves accelerate."
A gauge of the rout's momentum, known as the directional movement index, rose to the highest since March. The real has led emerging-market declines since Standard & Poor's cut the nation's credit rating to junk on Sept. 9, and concern is mounting that the country may face further downgrades.
Wednesday's rout took hold even after Rousseff scored a rare legislative victory early in the morning when lawmakers voted to sustain most of her vetoes of spending measures that would have increased outlays by 128 billion reais ($32 billion) through 2019. While the real advanced in early trading, the gains were reversed as investors switched back to focusing on an economy that's forecast to post the longest recession since the Great Depression amid inflation that's about double the government's target.
Brazil auctioned only 4,400 out of 20,000 new foreign-exchange swap contracts offered Wednesday and $4 billion in foreign-exchange credit lines. It will offer another 20,000 swaps contracts Thursday. The central bank had sold the swap instruments between August 2013 and March 2015, aiming to provide a hedge instrument for companies and curb inflation by supporting the currency.

The monetary authority said March 25 it would halt the sale of new contracts at the end of that month, while it would continue rolling over old contracts, which are equivalent to selling dollars in the futures market, depending on demand.
By announcing the foreign exchange auctions, "the central bank could be testing to see whether the market wanted more intervention or not," said Bruno Rovai, a Brazil economist at Barclays Plc in New York. "The market showed it doesn't. It is not a problem of liquidity, but of fundamentals."
While the swaps don't change the supply of physical dollars in Brazil, they support the real by meeting demand from investors who want to hedge against the risk of the decline in the Brazilian currency. They also boost onshore dollar loan rates, encouraging commercial banks to bring the U.S. currency into Brazil to profit from the higher rates onshore.
Yields on Brazil's $4.3 billion of dollar bonds due in 2025 rose 0.1 percentage point to 6.28 percent, the highest since they were issued in October 2013, while those on real-denominated bonds due 2025 climbed to 16.86 percent.
Brazil's market is seen as "dysfunctional" at the moment, and equilibrium in trading with swap rates is "clearly broken," BNP Paribas strategists led by Gabriel Gersztein wrote in a note to clients. "We are going into a stage in which prices are completely delinked from equilibrium/fair value."
Swap rates on the contract maturing in January 2017, a gauge of expectations for interest-rate moves, rose 0.72 percentage point to 16.47 percent, the highest since November 2008.
Brazil's Treasury will hold an extraordinary auction to buy as much as 1 million fixed-rate local bonds known as NTN-F of six different maturities, according to an e-mailed statement.
— With assistance by Alexandria Arnold, Arnaldo Galvao, Josue Leonel, and Marisa Castellani
Before it's here, it's on the Bloomberg Terminal.
LEARN MORE