Banks Set to Lose Risk Loophole in Sweden as FSA Strikes
by
FSA says bank buffers against corporate losses look too small

Agency is considering imposing capital add-on as extra shield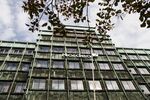 Sweden's financial watchdog wants to close a loophole that has allowed banks to understate the risk on their corporate loan books.
According to Uldis Cerps, executive director of banking at the Financial Supervisory Authority in Stockholm, Swedish banks routinely provide long-term corporate funding through a series of short-term loans. Because the transactions appear as short-term on the banks' balance sheets, they're assigned a lower risk weight. That means banks can hold less capital to guard against the threat of losses.
"Even if being legally accurate, this approach does not necessarily capture the actual risk, which both banks and the regulators should, in our view, address in their overall risk assessments," Cerps said in an e-mailed response to questions.
Corporate credit is the single biggest risk faced by Nordea, SEB, Swedbank and Handelsbanken, according to the Swedish FSA. Corporate exposures make up as much as 50 percent of their total credit risk exposure, and banks have already allocated as much as 70 percent of their capital for credit risks to corporate exposures.
But the FSA warns those buffers may still be too small. It's targeting the loophole as part of a wider review into corporate risk weighting.
"We will work intensely with this issue throughout 2016," Cerps said.
Nordea, Scandinavia's biggest bank, is already preparing for tougher capital requirements. In July it set aside 4.6 billion euros ($5.1 billion) in provisions, a move that cast doubt over its ability to meet a goal to pay out at least 75 percent of profit as dividends.
Banks base their risk assumptions on historical loss data. But that model may prove inadequate in preparing the financial industry for future crises, Cerps said.
"Historic losses, even based on long time series, are not necessarily representative for future losses," he said.
Risk weighting models, which encompass other assets such as mortgage loans, have come under fire after global studies showed widely varying results. In Sweden, their adoption has almost doubled banks' average ratio of reported core equity to assets since 2006 to about 17 percent, according to the central bank.
Other Scandinavian regulators have already forced lenders to adjust their approach.
After negotiations with Danish regulators, Danske Bank in December cut shareholders' equity by 9 billion kroner ($1.3 billion) to reflect additional losses in Finland, Estonia and Northern Ireland. The move came less than two years after the FSA ordered Danske to correct risk weights on its corporate assets, leading to an additional capital requirement of $1.1 billion.
"This framework has limits and one of those limits -- even assuming that everything is fine with the models and there's no gaming -- is that there is still a degree of pro-cyclicality embedded in the system, since it is based on historic data," said Marco Troiano, associate director for financial institutions at Scope Ratings.
As for the loophole, it exists because banks can base capital requirements on the contracts they sign, which don't necessarily reflect the timeline of a loan.
"Basing capital requirements on contractual, instead of expected, maturity is the prevailing interpretation of the EU law, as implemented by the EBA Questions and Answers tool," Cerps said.
The European Banking Authority uses the tool to field questions from both banks and regulators and its answers guide the industry in how to implement legislation.
Yet banks probably couldn't quickly terminate corporate funding to reduce risk in a financial crisis, nor would it be good for the economy for them to be able to do so, Martin Noreus, interim head of the FSA, said in a Sept. 10 speech.
The agency is considering forcing banks to recalibrate their risk-weight modeling and adding another buffer requirement, Cerps said.
"We are keeping both options open," he said. "There are specific weaknesses in the models which are best addressed by making change," he said. "However, for more general weaknesses, such as an absence of a macro-prudential perspective, a pillar 2 add-on might be more appropriate."
Regarding the loophole, "it is too early to say how exactly it is going to be addressed," Cerps said.
Before it's here, it's on the Bloomberg Terminal.
LEARN MORE