Source: Washington Post via Getty Images
Atlantic City Looks to Christie for Aid as Casinos Struggle
by
Relief bills that would provide revenue wait for his approval

Gambling revenue at the resort has fallen steadily since 2006
Bills to provide fresh financial backing for Atlantic City have spent weeks on Governor Chris Christie's desk as casinos say he's withholding crucial aid.
New Jersey's Local Finance Board on Tuesday approved a budget for the distressed city that includes $33.5 million from diverting a redevelopment tax and dissolving a marketing program. Those initiatives are part of a five-bill package that the Democratic-controlled legislature passed in June.
Christie, a two-term Republican running for president, was reviewing the bills, said Kevin Roberts, a spokesman. The governor, who has called Atlantic City key to New Jersey's recovery, has struggled with a five-year plan to turn around the seaside resort as nearby states expanded gambling. Credit-ratings companies have complained about the lack of resolution in fixing the junk-rated city's finances.
"There's no reason for him not to sign it," said Senate President Steve Sweeney, a West Deptford Democrat who sponsored the measures.
The legislation waiting for Christie's decision would compel casinos to make payments in lieu of taxes; extract more school aid from the state; ensure health and retirement benefits for unionized casino workers; reallocate taxes to make bond payments; and redirect tourism funding for the city's needs.
The bills are meant to stop a long slide. In 2006, at the height of Atlantic City's monopoly on East Coast gambling, annual revenue was $5.2 billion. It then fell for eight straight years, reaching $2.7 billion last year after New York, Pennsylvania, Delaware and Maryland opened gambling houses.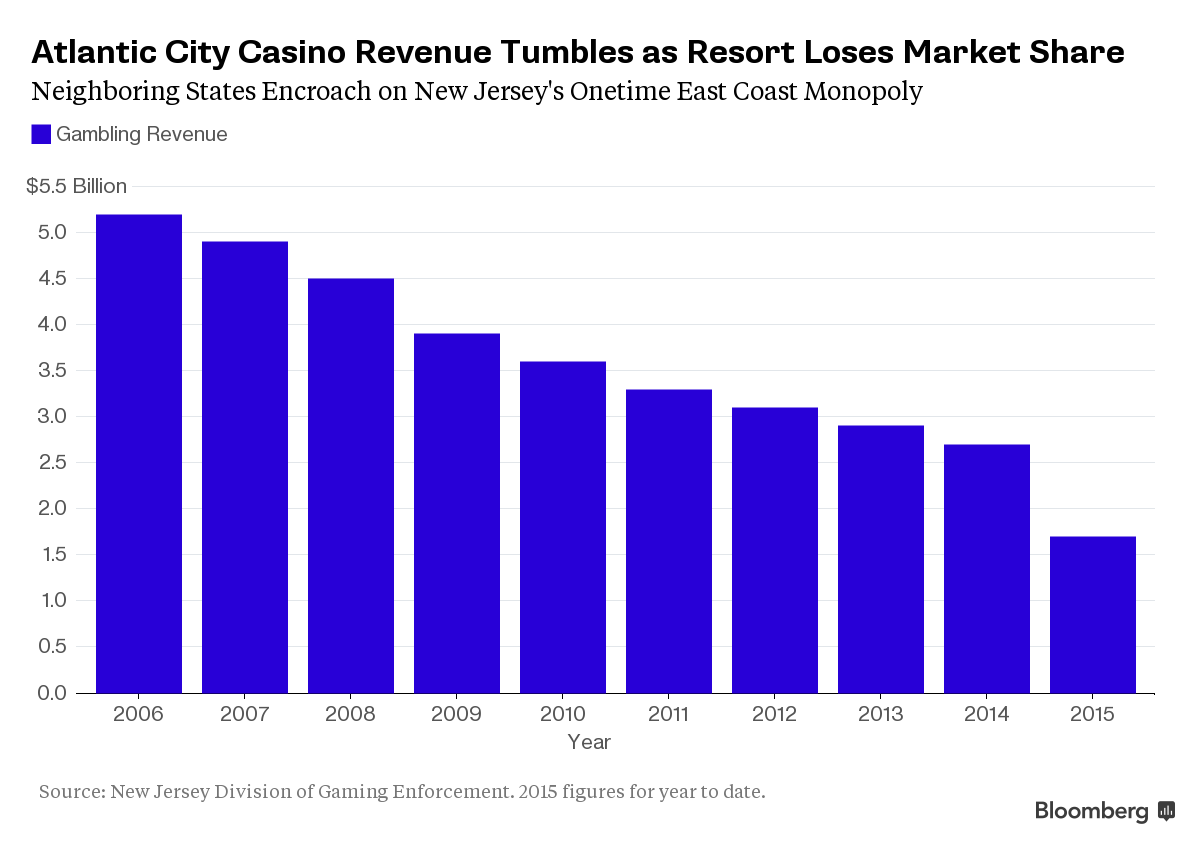 Business is down 10.3 percent this year after four casino closings in 2014. Those include Revel, a $2.6 billion boardwalk high-rise that opened in 2012, and Trump Plaza, once owned by its namesake, Republican frontrunner Donald Trump.
"Atlantic City is a disaster," Trump said during last week's CNN debate, which was watched by about 23 million people. "Maybe I'll blame Chris."
Christie offered no defense.
The governor in January appointed an emergency manager to oversee Atlantic City's finances. He said in interviews this year that he saw positive signs, including more business at remaining casinos and higher revenue from non-gambling entities.
"If we can get the governmental piece under control, I think the economic piece in Atlantic City is really positive," he said in a June press conference.
Year to date, remaining operators are up 3.2 percent. But the trend's persistence is uncertain.
August marked the first time this year that gambling take for the surviving casinos was down from the same month a year earlier. The calendar has a share of blame. Labor Day weekend, which draws crowds, took place in September; in 2014, it was in August.
"Atlantic City is still a good cash cow," Mayor Don Guardian told reporters Tuesday after the Local Finance Board meeting approved the budget. "We're wounded. We're not dead."
Caesars Entertainment Corp., which owns three casinos there, this month opened a $125 million conference center. The facility connects to Harrah's hotel, where room bookings for the next year have soared to 97,000 from 7,000 a year ago, according to a company statement.
Yet thanks to the casino closings, the community must lean more on residents, a third living in poverty.
In August, Standard & Poor's dropped its credit rating on the city to B, five levels into junk. Timothy Little, an analyst, cited in his report "the lack of clear and implementable reforms."
If the aid legislation isn't signed this year, Atlantic City will lose about $50 million, according to a statement from the Casino Association of New Jersey.
"The city would need to replace that revenue by other sources -– presumably the property taxpayers of Atlantic City," according to the group's statement. "These bills are our best hope for a solution to these pressing problems and it is unfortunate they are being held hostage."
The governor can wait to act until the Assembly, where the aid measures were introduced, meets again. The house has no sessions scheduled as members face re-election in November.
Moody's Investors Service, which rates Atlantic City at Caa1, seven steps into junk, said "substantial challenges" remain because the current spending plan was balanced with more than $70 million of one-time fixes, including the redirected casino revenues.
The city faces a $90 million deficit in 2016, Josellyn Yousef, vice president at Moody's, said in a statement Wednesday. Also, struggling casinos are "an ongoing risk because the city would lose additional property-tax revenues if they scale back or close," she said.
Before it's here, it's on the Bloomberg Terminal.
LEARN MORE