Volkswagen CEO Faces Board Showdown as Diesel Scandal Widens
By
Porsche and VW brand chiefs seen as possible replacements

German government putting pressure on carmaker to move quickly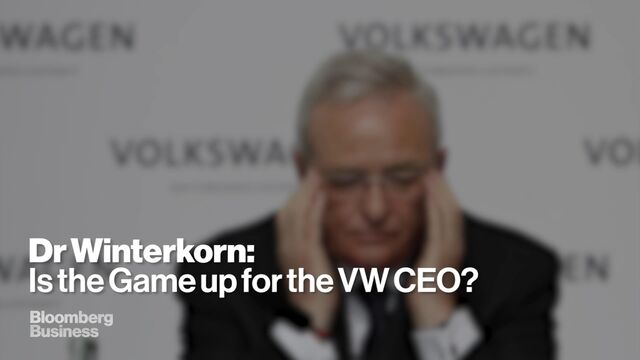 Volkswagen AG Chief Executive Officer Martin Winterkorn will get a chance to make his case before the executive committee of the automaker's supervisory board on Wednesday in a scandal over rigged diesel engines that's wiped out about one-third of the company's value.
A critical point in the discussion will be what Winterkorn knew about a scheme intended to dupe regulators and consumers about emissions of diesel engines installed in 11 million cars worldwide, according to a person familiar with the matter who asked not to be identified because the talks are private.
The 68-year-old CEO's survival hangs on convincing a few key power players, including Wolfgang Porsche, head of the family that controls a majority of VW's voting shares; Bernd Osterloh, VW's influential labor leader; and Stephan Weil, prime minister of the German state of Lower Saxony, which has special blocking rights at the company. All three are on the five-person committee, which is set to debate his future.
The group first met Tuesday evening to begin discussing how to handle the crisis as the German government demands the automaker take quick action, one person familiar with the discussion said. Talks may continue on Friday at a gathering of the full 20-person board, which plays an oversight role and was supposed to sign off on a contract extension for Winterkorn. A VW spokesman declined to comment.
Plunging Value
Pressure is building amid the widening scandal over diesel engines that cheated U.S. air-pollution tests. Winterkorn, who has run the Wolfsburg, Germany-based company since 2007, is responsible for product strategy, putting him at the center of the storm that's erased about 23 billion euros ($25.6 billion) from Volkswagen's market value since the start of the week.
Volkswagen shares clawed back some losses on Wednesday, rising as much as 5.1 percent to 111.40 euros. The stock was up 3.6 percent at 1:33 p.m. in Frankfurt.
The German automaker is becoming increasingly isolated. German Transport Minister Alexander Dobrindt said in Berlin that the case involves "improper tampering," which is explicitly prohibited under German and European law. France's Environment Minister Segolene Royal called the manipulations "fraud" against the state because the government offered incentives to purchase the cars.
VW's peers are also turning their backs. The European automakers' lobby group, the ACEA, issued a statement saying that "there is no evidence this is an industry-wide issue."
Possible Replacements
Should Winterkorn end up going, possible replacements are Matthias Mueller, head of the Porsche brand who is backed by members of the Porsche family, and Herbert Diess, who recently came over from rival BMW, one person said. Mueller oversees the marque that's a profit driver for the group. Diess, who joined in July to take charge of the VW brand, helped BMW cut billions of euros in purchasing costs during the global financial crisis.
"We believe VW needs a new CEO," said Arndt Ellinghorst, a London-based analyst at Evercore ISI. "Porsche's Mueller could be a good option until someone else can take over."
When former Chairman Ferdinand Piech sought to oust Winterkorn in April, VW's key officials quickly rallied behind the CEO. That hasn't been the case during the current scandal. Weil and Osterloh have warned that consequences may result from the probe, while Wolfgang Porsche hasn't made any public statements.
The meeting on Friday was supposed to sign off on Winterkorn's contract extension, which was announced a few weeks ago. In a video statement posted on Volkswagen's media website on Tuesday, the executive vowed to get to the bottom of the scandal, without indicating if he plans to stay on or leave.
"At present we do not yet have all the answers to all the questions," said Winterkorn, looking stern-faced as he said he was "endlessly sorry" for the confidence lost. "But we are working hard to find out exactly what happened. To do that, we are putting everything on the table, as quickly, thoroughly and transparently as possible."
Collapsing Stock
Still, he didn't specifically comment on his role in rigging VW cars with software that only turned on full pollution controls during tests. The vehicles emitted as much as 40 times the legal limit of pollutants when they were on the road, the U.S. Environmental Protection Agency alleges.
In Winterkorn's favor is his track record of boosting deliveries 77 percent and catapulting Volkswagen to outselling Toyota Motor Corp. for the the No. 1 spot globally in the first half. Winterkorn is also CEO of Porsche Automobil Holding SE, the company that manages the stake owned by the descendants of VW Beetle creator Ferdinand Porsche.
Working against Winterkorn is a collapsing stock price and mounting costs of addressing the crisis. Volkswagen is setting aside at least 6.5 billion euros, while the EPA probe alone exposes the company to fines of as much as $18 billion. Regulators from Germany, France, South Korea and Italy have vowed to scrutinize Volkswagen's vehicles. And then there's potential for lawsuits as well as criminal charges for executives.
"Winterkorn's personal brand has been built on being 'the engineer's engineer' and the 'detail man,'" Max Warburton, an analyst at Sanford C. Bernstein & Co., said in a note. "This is an engineer, who theoretically should have asked questions about how VW suddenly improved its emissions to meet Californian standards."