U.K. Rate Setters Unshaken as China, Fed Muddy Policy Outlook
By
Deputy governor due to speak on the labor market on Wednesday

Week of commentary sheds light on prospect for tighter policy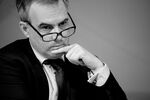 Bank of England officials are out in force.
When Deputy Governor for Monetary Policy Ben Broadbent speaks at 5 p.m. London time on Wednesday, he'll be the eighth of the central bank's nine key officials to have made public comments in a week. Amid financial market volatility and a delayed Federal-Reserve interest-rate increase, his remarks will mean investors have almost a full suite of views to consider. Only newcomer Gertjan Vlieghe hasn't spoken.
China's slowdown and the ramifications for global growth have prompted investors and some economists to push back bets on when the BOE will lift its benchmark from a record low. So far, officials haven't signaled a new approach is in store, with minutes of the most recent policy meeting playing down international risks and Governor Mark Carney telling lawmakers last week that rates may need to rise early next year.
Broadbent will discuss the labor market, a key area for the BOE's assessment of slack in the economy. The Monetary Policy Committee isn't scheduled to update its official take on the environment until its October decision, but some analysts aren't waiting to change their views: economists at Barclays Plc and Royal Bank of Scotland Group Plc this week said they expected the BOE to keep rates unchanged for longer, citing global factors.

Downside Risks
"There's an acknowledgment of the external risks but it hasn't brought about a change in the BOE's thinking yet," said Ross Walker, an economist at RBS in London, who predicts a rate increase in August 2016, compared with February before. "The reality is that the risks are to the downside for the BOE's growth forecasts" but officials will want to "wait to make a more thorough assessment," he said.
The pound slid to the lowest level in more than two weeks against the dollar. It was at $1.5334 at 9:09 a.m. London time, after touching $1.5298, the least since Sept. 8.
While inflation at zero might also appear to throw cold water on the prospect of an increase from 0.5 percent, policy maker Kristin Forbes told lawmakers last week that the U.K. is seeing "solid growth" and rates will probably need to rise in the near future. Ian McCafferty, speaking in Parliament alongside Carney and Forbes, said he worried inflation may exceed the target. He's been alone on the MPC in voting for a quarter-point rate increase for the last two months.
Zero Inflation
Martin Weale told the same audience that while China's slowdown is a risk, it's not yet having clear downside effects.
Deputy Governor Jon Cunliffe offered a different take on Monday, saying he didn't see inflation pressures building in the economy, though the next rate move is likely to be up. That means dissent comes only from the bank's chief economist: Andy Haldane said Sept. 18 the case for higher borrowing costs is still some way off.
The risks to U.K. growth and inflation are "skewed squarely and significantly to the downside," Haldane said. "Were the downside risks I have discussed to materialize, there could be a need to loosen rather than to tighten the monetary reins."
Broadbent's remarks follow a report yesterday that showed factory output stalled in the third quarter and overseas demand fell the most in six months in September.
The chorus comes as policy makers outside the U.K. are also grappling with financial-market turmoil. European Central Bank President Mario Draghi will outline his thinking when he's quizzed by lawmakers at 3 p.m. in Brussels on Wednesday. Fed Chair Janet Yellen, who dashed investor expectations for a rate increase last week amid concern world growth is weakening, will speak in Amherst, Massachusetts on Thursday.
Still, not all of the U.K. discussion concerned policy. Deputy Governor Minouche Shafik, a former International Monetary Fund official, devoted a Tuesday night speech in Edinburgh to a discussion of the role the IMF should play in improving the global financial safety net. She didn't mention anything on the outlook for British monetary policy.