The Sting of VW's Slap Across My Well-Moisturized, Euro-Loving Face
In which a cappuccino-sipping media professional loses the smug sense of superiority he once achieved just by driving a Jetta Sportwagen TDI.
By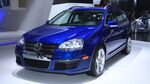 So a couple of things about me: I am a Northeast-dwelling, cappuccino-sipping, Whole-Foods-shopping media professional. I am also a lifelong lover of cars. I have reviewed them professionally, on and off, for 15 years.