No, the Summer of Donald Trump Isn't Over Yet
Reports of the billionaire front-runner's demise may be premature.
By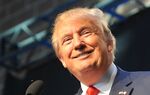 The so-called Summer of Trump has elevated a number of longstanding beefs into proper blood feuds: the Republican establishment against the conservative grassroots, for example, or the party's nativist constituency against its globalist elites. Until Scott Walker's withdrawal from the race on Monday, it was possible to look at one of those feuds—the tension between political scientists and the political press over what campaign developments are really worth our attention—and conclude that it was so nasty only because the stakes were so small.