Metallon Revives Zimbabwe Gold Mine That Will Become Top Deposit
by
Output cost to fall from $950 an ounce; group average is $700

Group's gold output from Zimbabwe to increase 25% in 2015
Metallon Corp. plans to re-open its Redwing gold operation in Zimbabwe and develop it into the company's top-producing mine as it lowers costs.
The company has rehabilitated the mine, including spending $1 million to drain its pits of water that accumulated after it shut down production seven years ago during the height of hyperinflation and an economic crisis. Redwing, located about 270 kilometers (168 miles) east of the capital, Harare, will resume operating on Oct. 1.
Within three years, Redwing will reclaim the position as the top producer of Metallon's five mines in the southern African nation, said Newton Murimirwa, its manager. After restarting output from areas of the deposit that had already been developed, new shafts may open in about five years, he said at his office Monday.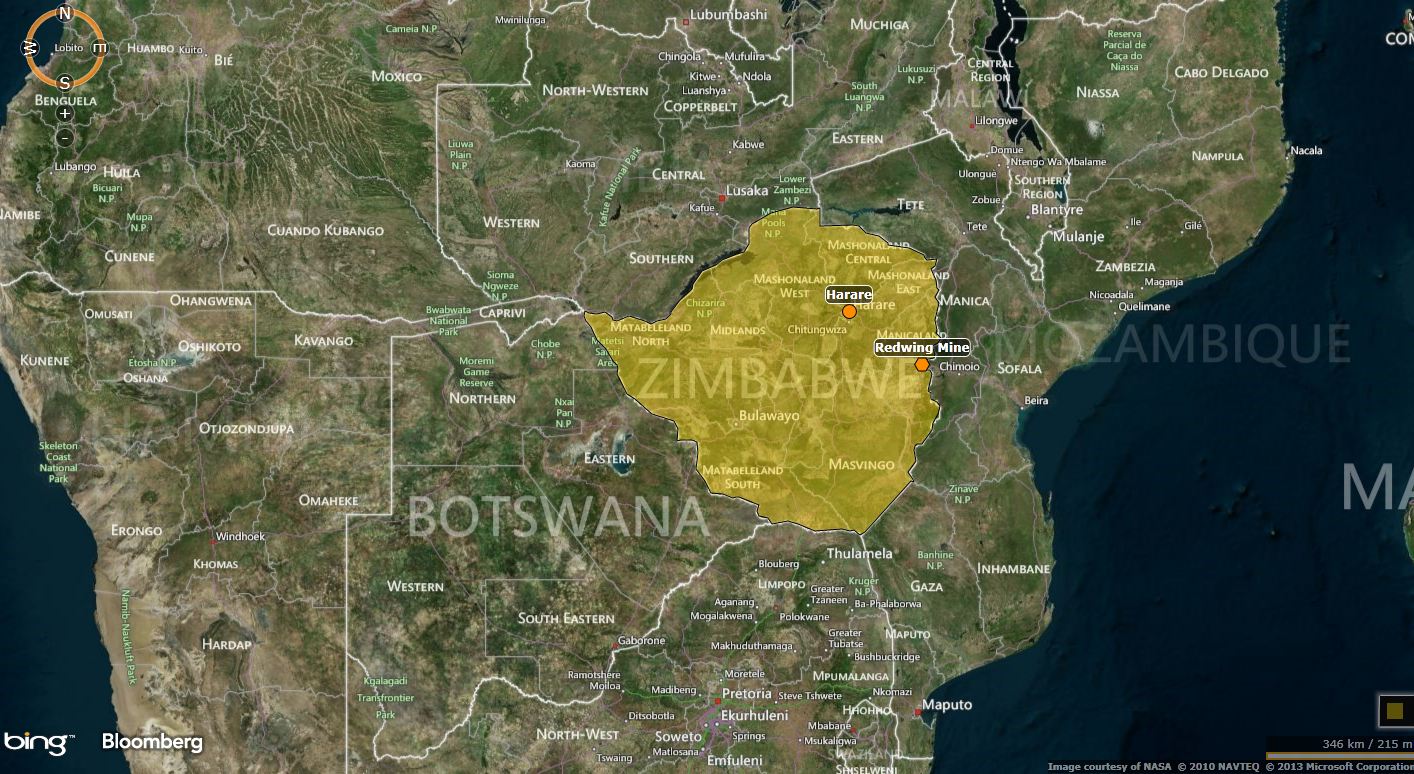 Mining is the biggest source of foreign exchange for Zimbabwe, which has the world's largest platinum reserves after South Africa and also has chrome, gold and iron ore.
Zimbabwe fell into recession and inflation surged to as much as 500 billion percent after President Robert Mugabe's government in 2000 started seizing white-owned commercial farms and redistributing them to black farmers. While the economy began to stabilize after the local currency was abandoned in 2009, it's now come under renewed pressure as growth stagnates, businesses close and deflation persists amid a lack of cash.
Miners in Zimbabwe are also grappling with a plunge in metals prices and higher costs after the government raised taxes to finance its budget.
Once the equipment is back in working order and the efficiency of Redwing has improved, the cost of producing gold should drop from $950 per ounce, which compares with a group average of $700 an ounce, said Murimirwa. Metallon forecasts its output from Zimbabwe will rise to 125,000 ounces in 2015 from 100,000 ounces last year.
Gold for immediate delivery was little changed at $1,133.84 an ounce by 8:18 a.m. in London. It has declined 4.3 percent this year.
Before it's here, it's on the Bloomberg Terminal.
LEARN MORE