business
Germany Opens Volkswagen Probe as Political Pressure Grows
By , , and
Merkel urges VW to clear up emission irregularities quickly

German politicians warn of damage to industrial image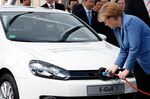 The German government opened an investigation into Volkswagen AG after revelations that it cheated on emissions rules in the U.S., as Chancellor Angela Merkel pressed the carmaker to come clean.
Amid growing criticism by government and opposition politicians in Berlin, Transport Minister Alexander Dobrindt said he had set up an investigative commission that will visit VW headquarters in Wolfsburg this week. In her first comments since the revelations by the U.S. Environmental Protection Agency on Friday, Merkel said VW executives must take action.
"Considering the difficulty of the situation, there has to be full transparency and an effort to clarify the whole matter," Merkel said at a previously scheduled news conference in Berlin on Tuesday. "I hope the facts will be put on the table as quickly as possible."
Allegations that VW hoodwinked U.S. regulators prompted a cross-party outcry over the potential damage to Europe's largest economy and the reputation of German products. The carmaker said Tuesday that 11 million vehicles were equipped with the diesel engines in question in the U.S.
Standard Bearer
"I find what we're currently seeing at Volkswagen shocking," Thomas Oppermann, the parliamentary caucus leader for Germany's Social Democrats in the lower house, told reporters. "The auto industry is the standard bearer for German exports and we can't allow it to be harmed," said Oppermann, whose constituency is in VW's home state of Lower Saxony.
Cars are the backbone of Germany's export prowess, with autos produced by companies such as Volkswagen, Daimler AG and Bayerische Motoren Werke AG accounting for almost 18 percent of exports last year. Volkswagen, which means "people's car," is one of the icons of German industrial might since World War II.
Dobrindt said his ministry's investigation will seek to find out whether Volkswagen conformed to European and German standards. The investigators will procure documents and interview company executives, he said in a statement.
There are no indications that other carmakers engaged in similar wrongdoing, Dobrindt told reporters. Germany's lower house, or Bundestag, scheduled a debate on emissions cheating for Thursday at the request of the opposition Greens, according to the parliamentary website.
"The Made in Germany brand and the export might of the German auto industry has been gravely damaged," Martin Burkert, a Social Democratic lawmaker who sits on the lower house's transport committee, said in an interview in Berlin. "We need to take political action so that the entire auto industry doesn't get swept up in this scandal."
That concern may be overblown, Michael Fuchs, a deputy caucus leader of Merkel's Christian Democratic bloc, said in an interview on Phoenix television.
"German business makes fabulous products," he said. "Those products are OK and most VW vehicles are OK, too."
(Updates with parliamentary debate on VW case in eighth paragraph.)
Before it's here, it's on the Bloomberg Terminal.
LEARN MORE