pursuits
In Top-Secret Brazil Vaults, Diamonds Are Evidence of a Downturn
By
Caixa pawnshop monopoly booms as Brazil's recession deepens

Low interest rates and ease of loans are driving demand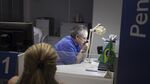 Scattered across southern Brazil, three clandestine buildings brimming with gold and diamonds are a testament to the nation's troubled times.
Business at the government-run pawnshops that feed the secret vaults is booming as Brazil's economy is forecast to contract this year and next, its longest recession in eight decades. The pawnshops -- different from U.S. storefronts that hawk everything from used guitars to leather jackets -- are operated exclusively by state-owned bank Caixa Economica Federal and take mainly rare stones and jewelry.
On a recent day, behind a partition in the back of a Rio de Janeiro branch, Hilcia Mauad watched anxiously as a Caixa employee used a jewelers' loupe to appraise a diamond ring she inherited from her mother. Until April, the 78-year-old hadn't pawned anything in more than 15 years. But inflation is close to 10 percent, so money isn't stretching as far as it used to and her husband, who is losing his vision, has medical bills to pay.

"In the last four months, I've been here twice," Mauad said. "It's a bad sign, a sign that the country is starting to leave us in the lurch."
Minutes later, she walked out the door with 330 reais, or about $83, for the decades-old family heirloom embedded with 24 small diamonds. The cash is a loan, one that carries an interest rate of 1.9 percent a month. That's among the lowest in Brazil, where credit cards charge about 13 percent a month, according to the association of finance, administration and accounting executives. The overnight benchmark rate stands at a nine-year high of 14.25 percent annually.
The low rate and relatively simple process are driving demand for Caixa's services, said Paulo Pires, chief of clients and businesses. The Brasilia-based bank has had a monopoly on pawnshops since the 1930s, the last time Brazil had back-to-back annual recessions.
"In these more difficult times, it's natural that someone who needs credit will look for what's easiest," said Pires, who oversees the pawnshop unit. "You're in a situation in which the economy isn't completely stable. You're in a situation of uncertainty."
Unemployment at a five-year high and a record number of businesses going bankrupt threaten to undo many of the social gains won by the middle class during the boom years of the past decade.
Amid the downturn, the number of pawnshop loans Caixa made in the first half of this year surged 11 percent from a year earlier to 386,225. At the Rio de Janeiro branch where Mauad pawned her ring, appraiser Carlos Monteiro said about a third of the clients he sees are new or haven't used the service in years.

The loans have a maximum term of 180 days and can be renewed. If items aren't reclaimed, Caixa waits 30 days and then auctions them on its website, with people bidding for the lots through the company's network of ATMs.
Caixa lends as much as 85 percent of the appraised worth, which tends to be less than the market value. The bank's loan portfolio for the segment totals 1.6 billion reais -- meaning the goods are appraised at about 1.9 billion reais and the market value is even higher.
While some of the riches are stored in the bank branches that act as regional hubs, most are shipped off to those three super vaults in Rio de Janeiro, Curitiba and Porto Alegre.
Not much is known about the vaults -- where and how big they are and what exactly is inside -- and that's the way Caixa wants it. The vaults have armored floors, walls and ceilings and are monitored remotely. They even lack air-conditioning ducts to prevent burglaries of the sort favored by Hollywood movies like "Mission: Impossible," said Pires.
Gold sealed in plastic pouches coded to the loan contracts comprises the bulk of the treasure, but there's more than just rings and watches. A worker at a Rio branch said one of the more outlandish items he's appraised was a gold baby pacifier. Another employee who got a rare peak inside a vault spoke of a diamond-encrusted tiara. Pires said he even heard mention of an Olympics medal.

With interest rates the highest in years and consumers needing easier credit, people like Mauad will continue filling the shelves and closets of the vaults, according to Pires. In fact, the loan Mauad received for her mother's ring isn't going to be enough to cover her expenses.
"I thought I was going to get more," she said. "I could have brought more things."
— With assistance by Brendan Walsh
(To set alert for Corporate Brazil columns, type: SALT BZCORP <GO>.)
Before it's here, it's on the Bloomberg Terminal.
LEARN MORE