Photographer: MIKE MERGEN
Charting the Markets: Fed Uncertainty Sours Mood of Global Investors
European stocks drop, VW continues to slide and zinc sinks to 2010 low
By
Confusion reigns. Less than five days after the Federal Reserve kept interest rates unchanged, a total of four U.S. central bank officials have paved the way for a hike this year. Traders still aren't convinced. According to Fed fund futures the probability of a rate increase in 2015 is less than 50 percent. Thursday's lecture by Fed Chair Janet Yellen in Amherst, Massachusetts, has taken on extra significance as investors seek more clues on the possible timing of a change in monetary policy. Asian stocks excluding Japan, which is closed for a second day, were little changed after the biggest loss in three weeks. The Shanghai Composite Index rose for a third day, the longest stretch of gains in over a month, as President Xi Jinping visits the U.S.

European stocks gave back all of Monday's gains and more on uncertainty about U.S. interest rates. Mining companies are faring the worst as metals prices drop. The Stoxx Europe 600 Index is on track for its second monthly decline, the longest losing run since July 2014. The gauge has rebounded almost 3 percent since its biggest one-day slump in seven years on Aug. 24. Still, it's trading 15 percent below April's record high. 

"We have totally screwed up." The words of Volkswagen's U.S. head, Michael Horn, after the German automaker admitted to cheating on air pollution tests. His apology came as the U.S. Justice Department begins a criminal investigation into the company, according to two U.S. officials familiar with the inquiry. Bloomberg Intelligence analyst Brandon Barnes says the world's biggest automaker faces up to $20 billion in penalties if you include fines, as well as shareholder and consumer lawsuits. The scandal sent the stock plunging as much as 21 percent on Monday, the biggest loss since 2008. Some 13 billion euros ($14.5 billion) of value was wiped away. Shares plunged a further 23 percent on Tuesday after the company said it will set aside billions to cover costs of the debacle and that more cars are involved than previously known.

Zinc dropped to the lowest level in more than five years because of rising stockpiles, weak demand and concern about slowing growth in China, the world's biggest user of metals. The Asian Development Bank cut China's growth forecasts for the second time in just over two months. It said the nation's declining appetite for energy, metals and other raw materials would hurt commodity-focused export economies. Global inventories of the base metal have risen to the highest since February. Zinc has plummeted 32 percent since closing at a 10-month high in May.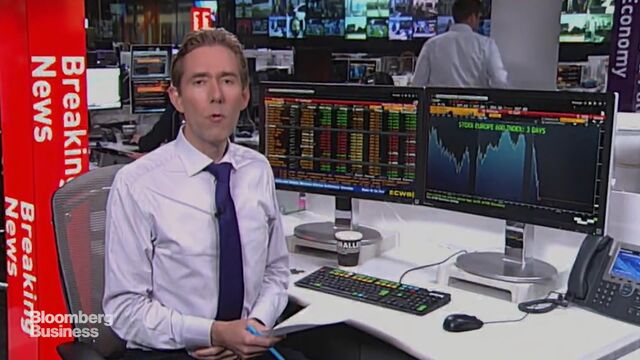 Mark Barton is a presenter on Bloomberg TV. Follow him on Twitter @markbartontv