Can Republicans Follow George W. Bush's Response to Anti-Muslim Rhetoric?
"Islam is peace," the president quickly said after 9/11. But years later, in Republican primary politics, it may not be that simple.
By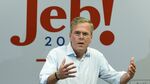 A flurry of anti-Muslim rhetoric on the presidential campaign trail has put Republican candidates in the hot seat about Islam's role in American life and politics.
For one example of how to respond, the candidates could turn to the brother of one of their own: Former President George W. Bush.
In the days after the Sept. 11 attacks, Bush made a point of distinguishing between the extremists who attacked America and "our many Muslim friends." During a speech at the Islamic Center in Washington on Sept. 17, 2001, he said it was important for Americans to understand that the attacks "violate the fundamental tenets of the Islamic faith" and "Islam is peace. These terrorists don't represent peace. They represent evil and war." Three days later, while addressing a joint session of Congress, Bush said Islam's "teachings are good and peaceful, and those who commit evil in the name of Allah blaspheme the name of Allah."
In the years since then, the relationship between Muslim-Americans and the right has soured. Bush went from 48 percent of the Muslim vote in 2000 to 7 percent in 2004, according to J. Matthew Wilson's book From Pews to Polling Places: Faith and Politics in the American Religious Mosaic. Anti-Muslim rhetoric increased, with "Sharia law" becoming shorthand for the idea that Muslims want to "usurp" the Constitution, in the words of 2012 GOP presidential candidate Michele Bachmann. During that same election cycle, former Pennylvania Senator Rick Santorum advocated for profiling Muslims in airports, and former pizza-chain executive Herman Cain said he wouldn't hire a Muslim to his cabinet. (He later backpedaled to say he would only hire a Muslim who disavowed Sharia law.)
The conversation picked up again in recent days as billionaire Donald Trump failed to correct a man at a campaign rally who said President Barack Obama is a Muslim. Retired neurosurgeon Ben Carson, asked on NBC's Meet the Press on Sunday if he would be open to a Muslim president, said, "I would not advocate that we put a Muslim in charge of this nation." Later, speaking to the Hill, Carson said Sharia law isn't consistent with the Constitution and "Muslims feel that their religion is very much a part of your public life and what you do as a public official, and that's inconsistent with our principles and our Constitution."
Bush's candidate brother, former Florida Governor Jeb Bush, disputed Trump and Carson, saying in a statement provided by his campaign on Monday that "the United States Constitution is clear. It prohibits religious tests for public office." Separately, Jeb Bush has also moved to embrace his brother's national security record more fully in recent days. During last week's debate, just a few days after the anniversary of the 9/11 attacks, Jeb Bush said his brother "kept us safe." (He then doubled down on Twitter, including a retort to Hillary Clinton. "As a New Yorker you know the leadership my brother provided after 9/11," he wrote to the Democratic front-runner.)
But further embracing George W. Bush's approach to American Islamophobia—for Jeb Bush or inclined rivals—may be more complicated. None of them is an incumbent president with a national constituency, and polling shows that prejudice toward a hypothetical Muslim president endures. Less than half of Republicans say they are willing to vote for one, according to a Gallup survey in June. (The only category that drew fewer Republicans in the survey—which also tested hypothetical Jewish, gay, and atheist presidents—was socialist.)
Perhaps the closest Jeb Bush has come to sounding like his brother during this race was in April, when Rich Lowry of National Review asked him, echoing George W. Bush's comments from 2001, "Is Islam a religion of peace?" Jeb Bush replied, "I'm sure for some of the practitioners, but it's been hijacked by people who have an ideology that wants to destroy western civilization, and they're barbarians. And so that part, which is the part that we need to confront head-on, is clearly not a religion of peace," Bush said. "You're not offending the sensibilities of people that are peaceful in the adherence to their faith when you say what I just said."