Can Republicans Follow George W. Bush's Response to Anti-Muslim Rhetoric?
"Islam is peace," the president quickly said after 9/11. But years later, in Republican primary politics, it may not be that simple.
By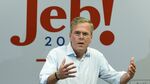 A flurry of anti-Muslim rhetoric on the presidential campaign trail has put Republican candidates in the hot seat about Islam's role in American life and politics.