business
Blankfein's Tenacity, Goldman's Bench Are Solace in Cancer Fight
By and
CEO will continue to work while undergoing treatment

Biopsy last week confirmed lymphoma diagnosis, he says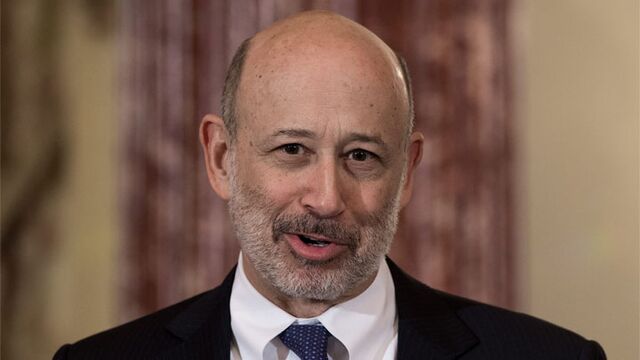 As Lloyd Blankfein embarks on a battle with lymphoma, investors and colleagues are taking comfort in his resilience, the recent example of Jamie Dimon and Goldman Sachs Group Inc.'s roster of veteran leaders.
Blankfein, Goldman Sachs's chief executive officer, said in a statement Tuesday that he has a "highly curable" form of lymphoma and will undergo chemotherapy in New York over the next several months. The 61-year-old said he will lead the bank "substantially as normal" while reducing his planned travel.
Goldman Sachs's management team features a president who's been with Blankfein since he took the top job, a handful of 30-year veterans of the firm, and co-heads in each major division that have been in their roles since before the financial crisis.
"Blankfein obviously is a great leader, but they have a very deep bench of senior management with Gary Cohn probably at the top of it," Paul Gulberg, an analyst at Portales Partners LLC, said in a phone interview. "It's a very sad event for any individual or a company, but from a business perspective, I think they're very well set."
Investors showed their faith. While Goldman Sachs shares slipped 2 percent, it was amid an industrywide slump in which Wall Street firms such as BlackRock Inc. and Morgan Stanley fell more.
Cohn, 55, has been president since 2006 and has long been considered one of the top successor candidates. Chief Financial Officer Harvey Schwartz, 51; Vice Chairman Michael Sherwood, 50; David Solomon, 53, co-head of investment banking; and Pablo Salame, 49, who helps lead the trading division, are all seen as potential choices, according to current and former colleagues.
Marty Chavez and Stephen Scherr have each taken expanded roles in the past two years, with Chavez heading several new initiatives as chief information officer and Scherr looking for additional sources of growth as chief strategy officer.
Overcoming Obstacles
Blankfein, the son of a postal worker, grew up in housing projects in the East New York neighborhood of Brooklyn and earned scholarships to attend Harvard University. He rose through the firm's currency and commodity trading business and took over as CEO when Henry Paulson left to become U.S. Treasury secretary in 2006.
"For Lloyd, obstacles are just something to be overcome," Paulson said in an e-mail. "That's his life story, and that is why he will overcome this one."
Bank investors have a recent example of a CEO working through cancer treatments. JPMorgan Chase & Co.'s Dimon, 59, the only other CEO of a major U.S. bank who has served since before the financial crisis, said in July 2014 that he would begin radiation and chemotherapy for throat cancer. He remained active in his role, and told employees of the New York-based bank in December that he was free of the disease.
"I wish my friend Lloyd a fast and full recovery," Dimon said in a statement. "He is blessed with a lot of love and support from family and friends, including me. My thoughts and prayers go out to him and his loved ones."
JPMorgan initially faced more succession questions from investors. Dimon's diagnosis had been preceded by departures of potential successors including corporate and investment bank co-head Mike Cavanagh. Still, Dimon said as he wrapped up treatment that cancer hadn't altered his plans to continue leading the bank.
Investors' Thinking
Goldman Sachs investors are processing the news the same way JPMorgan's did when Dimon announced his illness, said Marty Mosby, director of bank and equity strategies at Vining Sparks. Investors ask "how extensive is the illness, and is it going to preclude him from being able to, one, short-term be active, and two, long-term, have to change direction?" Mosby said. "It doesn't seem like either one of those are influenced significantly."
While Blankfein's statement didn't give details about his form of lymphoma, there are several types of the cancer, which begins in the body's immune system. One of the most curable is Hodgkin's lymphoma, which strikes about 5,000 men in the U.S. each year. Treatment has improved substantially in the past 50 years, with almost 90 percent of patients surviving for at least five years. The most common form is non-Hodgkin's lymphoma, which affects 38,000 men annually and has a five-year survival rate of about 70 percent.
It means a lot that Blankfein called his illness "highly curable," because the head of a company wouldn't make such a reassurance lightly, said Michael Farr, president of a Washington-based asset-management firm that oversees more than $1.1 billion, including Goldman Sachs shares.
"It's one thing when your Uncle Frank says 'I'm going to be fine;' a CEO of a publicly traded company just can't say that off-hand," Farr said. "We can feel fairly confident that as Mr. Dimon said he would be back in a few months and indeed he was, that Mr. Blankfein's experience will be equally mild."
Diagnosed Monday
Blankfein said he underwent a series of tests late this summer after not feeling well and a biopsy last week confirmed lymphoma. He received the final diagnosis midday Monday and notified the board at around 4 p.m., a person familiar with the matter said, asking not to be identified discussing the internal talks.
"My doctors have advised me that during the treatment, I will be able to work substantially as normal, leading the firm," Blankfein said his statement. "My doctors' and my own expectation is that I will be cured."
Blankfein led his firm through the 2008 financial crisis in better shape than many rivals, allowing it to bounce back quicker and post record profit in 2009. The firm then faced its own reputational trauma amid regulatory fines and a congressional inquiry into its sales of mortgage-linked investments before the credit crunch.
The CEO has assumed a more public role in recent years, often appearing with local politicians around the country to support the firm's philanthropic initiatives. While Goldman Sachs's profitability has been crimped by new rules and a slowdown in trading, revenue increases in investment banking and asset management and cuts to compensation costs have helped keep returns ahead of most rivals.
Blankfein was scheduled to speak on a panel discussion Monday night at an event sponsored by New York Magazine and the Partnership for New York City. Cohn, who arrived on a plane from Singapore earlier in the day, took his place. Cohn may be called upon to assume some of Blankfein's obligations during his treatment, the person said.
"Well-run companies and organizations are much more than one person's personality or presence," Vining Sparks's Mosby said.
— With assistance by Claire Boston, and Michelle Cortez
(Updates to add investor's comment in the 16th paragraph.)
Before it's here, it's on the Bloomberg Terminal.
LEARN MORE