After Goldman Volley, Adams Seeks to Court Irish Executives
By
Adams apologizes to executives for `unprofessional' arrival

Sinn Fein leader says tax rate should remain `at this time'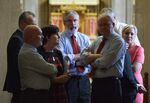 Sinn Fein leader Gerry Adams rounded off his effort to court Irish business leaders with an apology.
Held up in traffic, Adams, who heads the former political wing of the Irish Republican Army, had kept members of the Dublin Chamber of Commerce waiting for about 20 minutes before his arrival.
"I hate being late," Adams told the audience of about 100 people on Tuesday in the city's O'Callaghan Alexander Hotel. "It's very unprofessional."
Facing a general election within six months, Adams sought to reassure the audience that he shared many of their other values. In March, Goldman Sachs Group Inc. compared Sinn Fein's policies to those of Syriza in Greece -- whose leader Alexis Tsipras was congratulated by Adams-- and suggested that political developments in Ireland are the "biggest risk" to recovery. Seeking to dispel the "myth" that Sinn Fein is opposed to business and foreign direct investment, Adams insisted his party is "pro-enterprise."
"Sinn Fein puts the welfare of citizens first and foremost in all our considerations," said Adams, wearing a dark suit and a red tie. "To achieve this and to develop the type of fair, just and prosperous society which Sinn Fein advocates, we need a strong economy."

Touching on a hot-button issue for the business community, Adams said Ireland's 12.5 percent corporate tax rate "should stay where it is at this time." While welcoming those words on taxes, some of the audience remained unconvinced.
"Gerry said they are pro-business, but the proof isn't there yet," said Greg Clarke, who employs 35 people in his company, which supplies audio-visual and printing services. "If in doubt, some people leave it out."
Adams came wooing executives amid signs that backing for the party may be waning. Sinn Fein support was at 16 percent, down from 24 percent in December, according to a Red C poll for the Sunday Business Post published Sept. 13. Some 43 percent of Irish voters said they were worried a change in government might stall the fastest economic growth in the 19-nation euro zone, the poll showed.
Adams said that a Sinn-Fein led government would invest heavily in housing, childcare and public transport, drawing support from some in the audience.
"He was late because of traffic," said Clarke, who is also president of the Dublin Chamber. "So, he's making the point we need to invest. Infrastructure is a massive thing."