Unions Take Victory Lap As Scott Walker Drops Out of Race
The Wisconsin governor's union foes relished his Monday exit from the Republican primary election.
By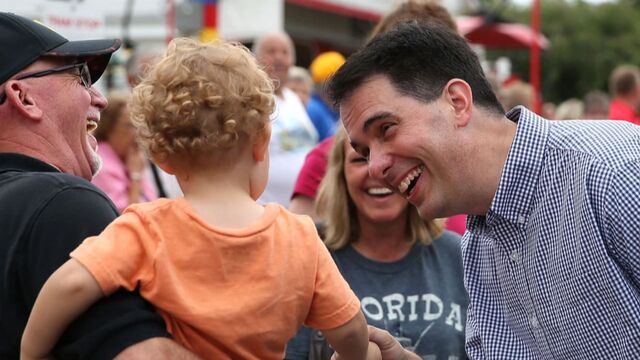 If Scott Walker thought he won the battles against the "big business union bosses," on Monday the unions won the war.
As word spread that the Wisconsin governor—who touted his fight against unions as a selling point of his campaign—would withdraw his bid for the presidency, union leaders wasted little time in rubbing salt in his wounds.
"Scott Walker is still a disgrace, just no longer national," AFL-CIO President Richard Trumka said in a statement shortly before Walker officially suspended his campaign.
Randi Weingarten, president of the American Federation of Teachers, a union that has endorsed Hillary Clinton for president, also portrayed Walker's exit from the race as representative of a larger truth. 
"As Governor Scott Walker leaves this race, this is much clear: You can't build a campaign by tearing working people down and attacking their aspirations for a better life," Weingarten said in a statement. 
Just one week before the announcement, Walker attempted to inject life into his sinking campaign by getting back to the basics: his tried and true anti-union policies. On Sept. 14, Walker announced plans to reduce organized labor on the federal level if he was elected president.
"Turns out belittling working men and women isn't a recipe for success even among GOP primary voters," Americans United for Change said in a statement on Monday.
Walker made himself a national name among conservatives when he won a recall election in his state after uproar over his right to work legislation that would allow workers to chose whether to join and contribute to a union.
"The American people have unmistakably rejected Scott Walker's anti-union brand," Phil Neuenfeldt, the president of the Wisconsin AFL-CIO, said in a statement. "Scott Walker doubled down on anti-worker policies that have failed in Wisconsin and his poll numbers tanked. Americans understand that in order to restore balance to our economy and sustain a thriving middle class we need unions."
Larry Hanley, international president of the Amalgamated Transit Union, joined the chorus of labor leaders portraying Walker's political defeat as their victory. 
"Americans aren't fooled. They understand that a campaign against unionized employees is a campaign against working families to lower the wages, benefits, and working conditions of all workers," Hanley said in a press release. "The early demise of the Wisconsin governor's misbegotten campaign should serve as a warning to all other candidates for office: You can't win an election by attacking working people you're asking to vote for you."
Walker's announcement comes on the same day as a CNN/ORC poll showed the onetime Iowa front-runner registering under 1 percent nationally.
—Steven Yaccino contributed to this article.