Russian Publisher of Playboy Said to Stay as Media Squeezed
By , , and
Burda's lawyers said to study ways to comply with Russian law

Rules capping foreign media ownership to 20% effective January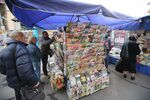 Germany's Hubert Burda Media Holding intends to remain in Russia after other international media companies announced plans to pull out amid President Vladimir Putin's push to tighten control over the broadcasting and publishing industry, according to two people familiar with the situation.
Lawyers at the publisher of Russian titles including Playboy and women's magazine Lisa are studying options to comply with a law that restricts foreign ownership of media to 20 percent, said the people, who asked not to be identified because the deliberations are private. One way to do that is to separate editorial units and pass control to local managers, according to Elena Shitikova, executive director of Russia's press publishers lobby.
Russia is Burda's second-biggest market after Germany and the publisher expects to make the final decision on how to save its Russian holdings by November, said one of the people. Berthold Heidbuechel, a spokesman for Offenburg-based Burda, declined to comment on the company's plans.
Several of Burda's peers have pulled out rather than restructure their Russian holdings. Axel Springer SE, Europe's biggest newspaper publisher, last week agreed to sell its businesses to Russian publisher Alexander Fedotov, leaving the country after spending 11 years building the unit. Switzerland's Edipresse sold its Russian operations earlier this year and Finland's Sanoma Oyj divested its stake in business daily Vedomosti in April.
Iron Curtain
While Axel Springer opened its high-rise headquarters next to the Berlin Wall in 1966 to challenge the Communist leadership of East Germany, Burda breached the Iron Curtain as early as 1987, when it released the first western magazine in Russia, fashion title Burda Moden. Soviet leader Mikhail Gorbachev's wife attended the launch event at the time in Moscow.
Burda's German parent could keep income from distribution, ad sales and on licensing of titles and content if it shifts editorial control out of the company, according to Shitikova. Burda, which owns or has stakes in about 500 media products in 20 markets including in the U.K., Malaysia and Turkey, generated about 2.46 billion euros ($2.8 billion) in sales last year.
Burda publishes about 60 magazines in Russia, including women's magazines and luxury titles such as The Rake. Its magazines have over 34 million readers, according to TNS Gallup Media, and the company employs about 400 people in the country. With its focus on consumption and fashion, Burda may have better chances to stay in Russia than publishers with more political magazines, according to Christian Mihr, the head of Reporters Without Borders in Germany.
Independent Journalism
"Burda, unlike Springer, also managed to build up effective distribution channels in Russia," Mihr said in a phone interview. "I'd welcome Burda staying because they stand for the concept of independent journalism."
Even without the rules, media companies in Russia have been hurt by the country's recession and falling advertising revenue. Putin has also tightened his grip on the Internet amid geopolitical tensions over Ukraine.
Russian businessmen are benefiting from the exodus of foreign media owners, acquiring assets built up for decades in the final months before the law takes effect starting in January. Discovery Communications Inc. agreed last month to move its Russian business to a venture with Putin's ally Yury Kovalchuk, while Sweden's Modern Times Group AB may sell Russian broadcaster CTC Media Inc. to local billionaire Alisher Usmanov.